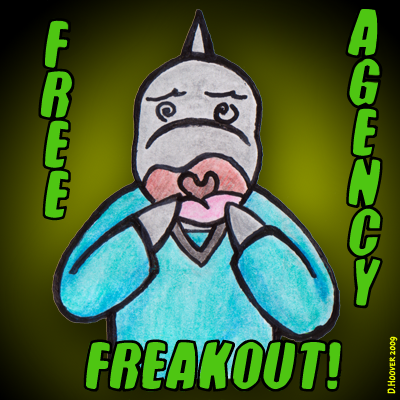 To keep things under control here, (and so she can study/finish getting over her cold), Gray has decided to only post Sharks news. Which means there probably won't be much *ZING!*
However, we'd hate to leave you all high and dry so here's TSN's
free agency blog extravaganza
.
I am sad about Boucher.
WTC update as of
11am
12:30 update
To no one's suprise: RT @Sean_Leahy: Sportsnet: Brian Boucher signs 2 year, $1.8 million total deal with the Flyers

Some more from WTC:
12:33 p.m. — Nothing official yet but word is out that Boucher is signing with Philadelphia. Makes plenty of sense for a lot of reasons — that's the team that drafted him, expected to sign him when Doug Wilson swooped in back in February 2008 and operates not too far from his Rhode Island home. Nothing yet on the terms. Boucher came up after panel was kicking around possibility of Sharks parting ways with Patrick Marleau and Evgeni Nabokov with Darren Pang saying Marleau could be going, but Sharks need to hold onto Nabokov even if they get Gustavsson.
12:28 p.m. — Sharks get second mention on the TSN coverage as topic up for discussion is teams that do nothing (or very little) on July 1. Writers talking about the foolishness that goes on and the wisdom of waiting till either the end of the day or a few days to see what bargains are out there and not getting caught up in overpaying. Dave Hodge brings up the Sharks (great regular season, no playoff success) and nobody blames the Sharks post-season problems on the failure to sign big-name free agents to long-term deals. Dave Naylor of the Toronto Globe and Mail pretty much endorses the approach Doug Wilson takes.

Gray does NOT want to lose Patty
!

UPDATE! 2:45 (late, sorry)
According to TSn and Working the Corners, the Sharks have resigned Kent Huskins to a 2 year deal for 1.7 a yr.
3PM UPDATE
More over at WTC
with Grier's take on being shown the door, so to speak.