While saddened that Team Teal is not in round 2, that my game F ticket will sit uselessly on my fridge until I can bring myself to toss it out, and that may days at the Tank are done for now, there are some benefits to not having the Sharks in the second round. For instance: no more second round jokes, freer schedules, the joy of being able to watch a playoff game and not give a frak who wins. All pluses to that keep your blood pressure lower, to be sure. We're still disappointed, but if we can't look on the bright side as fans, they might as well hand out anti-depressants at 525 W. Santa Clara st. instead of rally towels and pom poms.
The West kicks off the second round with one game today.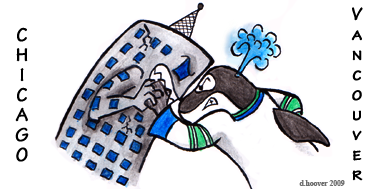 Today @ 6pm
VERSUS HD, CBC HD, RDS HD

In case your wondering, I (Gray) did make picks for this round, but I didn't take them at all seriously.
Another FTF regular posted her picks, which are as follows:
VAN 4 CHI 3
DET 4 ANA 3
BOS 2 CAR 4
WSH 4 PIT 3
Her suggestion was to pick the opposite if what she did because she threw out everything she knew about each team and picked results she wanted to see. Not feeling into picking winners for a round I had little stake in, I followed her advice and chose the following:
VAN 3 CHI 4
DET 3 ANA 4
BOS 4 CAR 2
WSH 3 PIT 4
I don't care if I pick "correctly." It's more fun to pick when you don't give a frak, or you know, make your career doing this sort of thing. That seems a lot like making a living by playing the slots at Vegas. When you're right, it's great, but the odds of winning each time are dramatically low.
Second round crapshoot begins. Uhm, bring it?
Also, the Sharks injury list is out. All you AMGTRADEMARLOOANDTEHBIGJOE people, check
is out
. (care of the fantastic Mr. Pollak) I should note the days=how long said player has been injured.
*** Marleau has a sprained MCL
***Rob Blake — foot contusion, 10 days, MRI possible.
***Jonathan Cheechoo — MCL sprain, left knee, 22 days.
***Travis Moen — hip contusion, 8 days.
***Douglas Murray — left shoulder may need MRI, acts like mild rotator cuff strain.
***Evgeni Nabokov–strained hip muscle (gluteus medius), 13 days.
***Joe Pavelski — knee contusion, 4 days.
***Devin Setoguchi — mild ankle swelling by Achilles tendon.
***Jody Shelley — possible MRI for neck and shoulder soreness.
***Joe Thornton–groin/hip flexor, 63 days.
Playing while you can barely skate, that's called heart. Stick that in your angry pipes and smoke it.