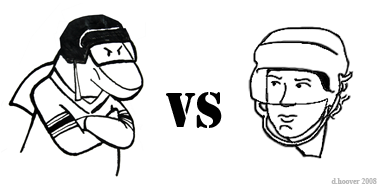 Tonight @ 7:30pm Radio, CSN+, Tank, Interwebs
If it wasn't for Campbell, would we still have the same feelings of "HULK SMASH" when the Blackhawks come to town? They're a decent team and each game against them has been hard fought, but I think, for the fans anyway, the idea of beating the Blackhawks is secondary to not letting
Campbell
win. Hell, I'm using Campbell's face to represent the team! This despite being so happy with Boyle that I feel like I should thank Campbell for leaving.
No, really.
Thanks for giving us a chance to get Dan Boyle (and Lukowich). He's awesome.
As always, should be a good one. Tune in.
Post Game During Game:
1st period
If it doesn't stop 39 seconds in, stop it there. It might only be three seconds but it sums the first up pretty well.
2nd period
I have decide to transcribe the thoughts of each team during this period based on the play.
Sharks: If we just step on the ice that counts as playing, right?
Blackhawks: Let's get some goals!!!!!!!!!
I would like to ask the Sharks to please remember that they have guys they need to watch and to do that. I am looking at you, Joe Pavelski.
GREAT second by the Blackhawks.
Way to get 45 good seconds in at the end there, Sharks!
I'd really like to see the Sharks step up and match the Blackhawks intensity. It would make this an awesome game. Instead it's the Hawks skating circles around
tired
apathetic looking Sharks.
3rd period:
Another great period for the Blackhawks. I really wish the Sharks had stepped up, not because it would have meant a win for them, but to just make the game a little more entertaining for everyone. I guess I get more disappointed when a team loses after not really trying than I do when they work hard and get beat.
But the Blackhawks were fun to watch, aside from the goals against the Sharks.
Milan did his best to jump start things by making it 4-2, but it was too little too late. You can't wake up with 5 minutes left and expect to win, unless you're playing Vancouver. At least that's what Jan. 20th taught me. Apparently taught the Sharks that too because they didn't seem to wake up until about 5 minutes were left in the third.
Blackhawks go to Vegas (yes, Vegas) with a well deserved win. The Sharks go into their next four days off with what I suspect will be a hell of a lecture from their coach.

Stat o' the Game - 33.3%
After improving their penalty kill over the last few games (6 for 6 against the Coyotes), the Sharks sure sucked on the pk against the Hawks. Sure, the effort for most of the game was pretty lackluster but these 2 goals really killed any chance the Sharks had in the game. Neither goal was particularly ugly but the Hawks PP made the Sharks look ordinary and not like an 86% pk team. I know that this will be one of the things that Teh Todd will have them working on before Thursday against the Hurricanes.

Word o' the Game - Out-Sharked
Drew used this word several times throughout the game and I think it's the scariest word out there. The Hawks played an awesome game that looked amazingly familair to Sharks fans. Their players were very active on the puck, they were confident in the neutral zone, their scorers made incredible shots and made Nabby look a little ordinary. In short, not only were the Hawks the better team tonight, they were playing like the best team in the league. And really Sharks fans, we all knew this was coming. Sooner or later, not only were teams going to figure out what they needed to do to beat the Sharks, but eventually teams were going to realize that playing the Sharks own game would be a solid way to beat them. The "Shark game" isn't going to work for every team, but Chicago is a very solid group and I'd love to see them make the playoffs (as long as they don't play the Sharks). Like Gray said, the Sharks have 4 days to figure out where to go from here. The boys have done well this year rising to meet a challenge and this is certainly a challenge.