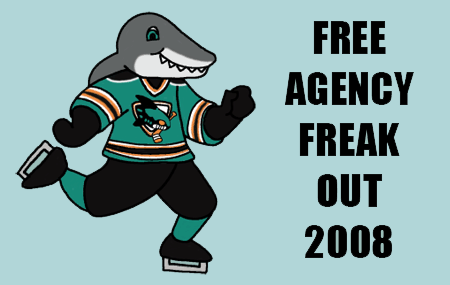 Detroit Red Wings sign UFA forward Marian Hossa to a one-year contract worth $7.4 million. The only way I would like this less is if he went to a team in the Pacific Division. I can only guess how Pens fans feel.
Avery went to Dallas. That will be annoying for Sharks fans, though it remains to be seen how well that arrangement will work for Dallas.
I don't have much to say about the other signings that went on today. The two listed above are the obvious standouts, everything else is just free agency filler.
The Sharks haven't made a move yet and I don't believe they will. DW isn't the type to find salvation in free agency. The pros and cons of this belief have been discussed ad nauseam in other blogs or message boards related to the Sharks, so I don't see a need to explore it further. It's said he's looking at some possible trades to help fill the gaps in the Sharks D. Changes have been promised by the start of the season, so expect some trade action later this summer. If he does anything today, I'll be very surprised.
If you're wondering "How can she not be mad?!" please see off season: A's, Oakland and off season: Giants, SF.