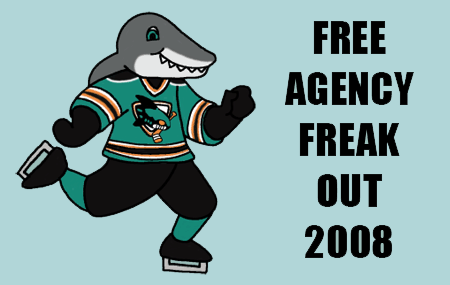 Merry Christmas hockey fans! It's that day we've all been waiting for: the first day of Free Agency! What does your GM have in your stocking this morning? Is it a brand new awesome defensemen or did you get coal? All I am hoping is that today will be full of interesting signings that help the Sharks and not hurt them. You'll have to forgive me for being a little slow at first, but 9.00 am is a little early for my summer vacation brain. I'm going to try to catch up with some of the signings that happened in the last few days while still searching the
ESPN Free Agency tracker
for interesting names. Seriously, it's days like this I wish I lived in a country that cared more about hockey. Here we go.....
* So while I was sleeping, the Washington Capitals signed my Eastern Conference Hockey Boyfriend Matt Green to a 4 year $21 mil contract. Yay! I'm glad that Washington showed the love to Matt with this contract. Although I think I would have liked to have him. 56 points for a defensemen. Man. That would be nice. Congrats Eastern Conference Hockey Boyfriend.
* Correy Perry signed a 5 year $26.6 mil deal. As a hockey fan, I think it's a nice contract for a guy who had a nice season despite being hurt for a while. As a Sharks fan, I'm a little bitter mostly cause I have no desire to have him in the line up against my team for 8 games a season. My other disappointment is that the signing makes
Earl Sleek happy
and I've always found him funnier to read when he is bitter.
* I've never made a secret of my dislike for Raffe Torres. His hit on Milan Michalek was a series changer and he was just generally dirty during those playoff series. Imagine my surprise to see him traded from Edmonton to the Blue Jackets for Gilbert Brule, who I have honestly never heard of. Plus they got Erik Cole from Carolina for Joni Pitkanen. Those are 2 names I am happy not to have to hear during Edmonton games ever again. Although I thin Erik Cole will be a nice new piece for Edmonton.
* It's almost 10 and still no Sharks news.
* Bryce Salvador and Jay Pandolfo re-signed with New Jersey. Ummm.....yay? They both look like they had solid numbers for the Devils last year. So good for a team that I don't have to see very often.
* Pascal Dupuis signed a 3 year deal that pensblog says is for $1.4 a year. And there are rumors floating around that they are close to a deal with Malkin for an extension. With the rough off-season the Pens have had, it's nice to see somethings going well for them. Check out
their live blog
too. Good thorough stuff.
* The slow pace of the signings so far is giving me chance to catch up. Thanks NHL!
* Brad Stuart signed with the Wings, 4 years for $3.75 a year. Kid sure has come far since being part of the trade that got us Joe Thornton. I agree with
Rudy Kelly
in that I'm not sure he was worth that kind of money, but then again he's not being expected to be the same kind of player with Detroit that he was in San Jose or LA. In Detroit, there are other solid defensemen around him. With the Sharks, he was expected to be a #1 or #2 and I just don't think he's that guy. But good on you Stuey for cashing in.
* And Cujo is out of the Western Conference!! Thank god! He always seemed to have fantastic games against the Sharks. He's expected to get $700,000 to be Vesa Toskala's backup in Toronto. I think that's a nice move for them especially since Cujo has the ability to be a very solid backup.
* I swear I'm not ignoring things. It's just that things are rather slow and so far none of the moves have really blown me out of the water. I'll be back in a bit to recap what has happened so far.
Gray chimes in: This just in! JR to co-host The Best Damn Sport Show tonight and tomorrow. That's all the Sharks news so far. Exciting, isn't it? Now back to your regularly scheduled Mina coverage of the 2008 slowest ever Free Agency Freak Out.