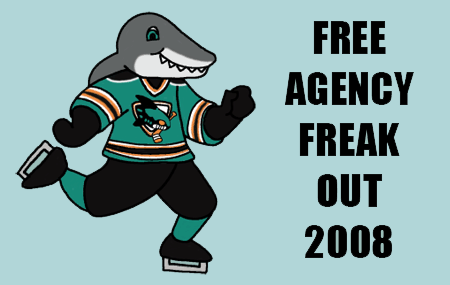 So I went away from the blogging for a few hour and
all hell broke loose
somethings happened, probably the biggest being Brian Campbell "shockingly" signing somewhere other than San Jose. I'll get to the official Couch Tarts position on that, but I promised to catch up on all the other signings that happened. So armed with my many, many Firefox tabs, here we go.....
* Tampa signed Radim Vrbata to a 3 year deal for around $9 mil. I saw a lot of the guy with Phoenix and remember him having a lot of upside as a player. $3 mil a year for a guy who put up 56 points last year sounds pretty solid. But as a Giants fan, I know what can happen if the guy has his only good year before getting a big contract *cough* Marvin Benard *cough*
*Boston signs Blake Wheeler to an entry level contract. *shrug* Some development guy from Phoenix. Funny thing is this is pretty much the only time I've seen Boston's name all day. Curious for a team who didn't make it out of the 1st round of the playoffs this year.
* Just when I was happy for the Pens fans in signing Dupuis, Ty Conklin goes to Detroit to backup Osgood for a year for $750,000 (I've heard $700,000 too but I'm going with TSN on this). That's a steal. Conklin was a beast for the Pens when Fleury was out for part of the year. He almost stole a game for the Pens against the Sharks earlier in the season. It boggles my mind how Detroit keeps getting better and better and doesn't seem to spend much money. Sorry pensblog.
* Jose Theodore goes to Washington for 2 years for $9 mil. As starter money this isn't bad, but I think that's a reach given Theodore's recent history. His numbers don't look bad (2.44 GAA and .910%) but he only played in 53 games and has been a hardcore head case. I know it was goalie-palooza out there, but if I were a Caps fan, I'm not sure I'd like this trade.
* After claiming him off waivers from Toronto, Vancouver signed Kyle Wellwood to a 1 year deal for just short of $1 mil. Not a bad pick up for the money. Vancouver didn't have fantastic defense last year and 21 points and a -12 +/- aren't going to help that. Then again he's young so I guess it's a solid call.
* Minnesota re-signed Andrew Brunette for 3 years and $7 mil. Man, that is one of those guys I would have liked the Sharks to get (this will be a continuing theme for today). 34 is a little old, but for a how put up 63, 83, and 59 points in the last three year respectively, a little over $2 mil a year isn't a lot. The Sharks could use a solid winger, but I didn't really think he would leave Minnesota.
Edit to add: I have a hockey game in a bit, but when I get back I'll give more commentary on today's signing tonight and tomorrow. Stay tuned for Gray's responses. Should be interesting.