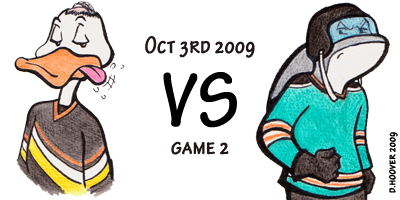 This show gets on the road tonight @ 7pm on CSNCA with your lovely hosts, Randy and Drew. Jamie and Dan will also, as always, be provided us with fantastic radio coverage.
I know there's some issues about the availability of CSNCA (to put it mildly), but hopefully until everyone's providers figure this mess out (TV shouldn't be this hard!) you all will find a place to watch, or at the very least, listen.
I know everyone is still all pissed about Thursday, but to help you move on, Reader Emily created a fantastic video. You should watch it.

Really Post Game Recap:
So I didn't get to see the game, as I was in places I was at last night, while cool, only were showing college ball. From the highlights I saw, it looked like last night's game was good. Like super good. Love it when we beat the Ducks.
Our rooks all get their first points in the same game AND they all come from Ferriero's 1st NHL goal. Awesome!
Patty's shorty was so amazing Mina called to tell me about it. It was a thing of beauty.
ZOMG Joe shot the puck! ZOMGZOMZOMG!
Seto was like "watch this!" and Hiller was like "wha....dammit."
I missed Randy and Drew, and while I only got a bit of them in the highlights, it was really awesome to hear them calling a game again.
Kinda confused (having not see the game) about why Teemu got the 2nd star when Whitney scored the Ducks only goal of the evening. Anyone have a report on his performance?
The team looked faster as a whole, but like I said, I only got to see the highlights, so I'm just guessing based off those and the recaps I read.