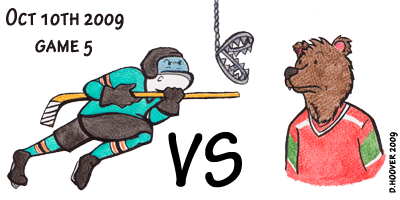 I'm not too sure if trap jokes are still valid with a new man at the helm for the Wild, but why waste the chance for a good joke, eh? It will be interesting to see where Todd Richards has taken the Wild so far.
Game kicks off tonight at 7:30pm (Pacific)on CSNCA and the radio. I think we really do have a half hour preview leading up to broadcast but I'm not sure if that's on CSN or CSNCA. Still trying to figure out the ins and outs of the channel switch.
In related news, it came out yesterday that Joe Ike, long time in house voice of the Sharks, was
let go due to a crappy economy
. He's been replaced by Danny Miller, the in game/ intermission activities guy. You may voice your (polite and well written)disagreement with this move by using the contact info on
this page
. Best bets is likely business/other, but broadcast might work too. If your a season ticket holder and are upset by this move, please contact your account representative and (politely) let them know. We understand this was an economical motivated decision, but many of us are upset by the move to consolidate jobs by removing a man who many of us feel is synonymous with Sharks home games. I appreciate that this is a boon for Danny Miller, but he's no Joe Ike.
By rights, if you like Danny Miller in this position, by all means, also let the Sharks know. But I, for one, much prefer Ike's calls. I was looking forward to them this season.

Post Game Recap!