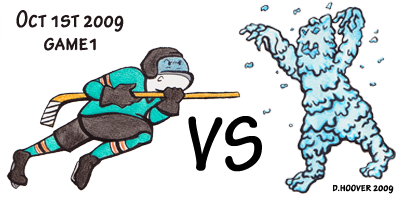 This thing kicks off TONIGHT! On Versus @ 7, but if I had to guess I'd say the VS will also be airing the pregame festivities as the Avs honor Joe Sakic for being, well, Joe Sakic. Come for the jersey retirement, stay for the game. It's gonna be good.
Whoooooooooooooooooooooooooooo! Hockey is back, baby! Strap yourselves in folks! It's going to be one helluva ride!
Post Game Recap:

Anderson is a beast!
Our D didn't show up. Don't know where they were but their less skilful, more inefficient clones showed up instead. "You idiots! These are not them! You've captured their stunt doubles!" So true.
Patty was the best looking player in white and teal on the ice tonight? Letters? Letters? Patty don't need no stinking letters!
It was discussed and decided that the Sharks were beaten by Sakic's right testicle, while the left had more valor than the word valor itself. Powerful stuff.
The 1st line needs some time to gel, that is for sure.
Heatley missed a shot that should have gone in with the most terrific whiff of the night. OY!
Did I mention how Anderson is a beast, cos he is.
Nabby didn't play well, but he didn't play badly, either. He had no help from his D and the Avs walked all over his net.
Pretty poor performance overall by the Sharks, BUT , Patty was great, Demers and Ferriero played well in their first NHL game.
I didn't even know Huskins was ON THE ICE until the VS guys mentioned him. Not sure if that's
good, bad, or entire inconsequential.
But despite the loss, hockey is back, and that make me happy.
GO SHARKS! And kick some Duck butt on Saturday!