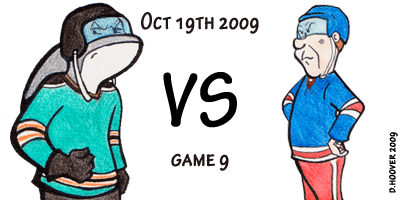 Little known fact: on off days the rangers in Jellystone play hockey.


Today's bout kicks off at 4pm Sharks time on Versus, or the radio for those of you not currently receiving VS due to arguments over your money. Arguments in which you're not really allowed to take part. Fun, huh?
Anyway, the Rangers are starting out super hot, having won 7 games on on their longest win streak in several seasons. Must help when you can get hockey advice from a smarter than average bear. (I am really stretching for these this morning, aren't I?) Not that I'm comparing Tortorella to a bear. I think I might actually have a chance against a bear in a fight. Torts, not so much.
I have no idea where I am going with this so I'll stop here. Go Sharks!
News and Notes:
We have a surprise for you all! This will (likely) be our last post here at blogger. We're moving! While we haven't officially flipped the switch just yet, BUT, we'll be your new Bloguin Sharks bloggers!Yay!
We'll make sure to post a link as soon as we flip the switch! (which should be later today)
Our first post in our new home.
Go here
! Go!