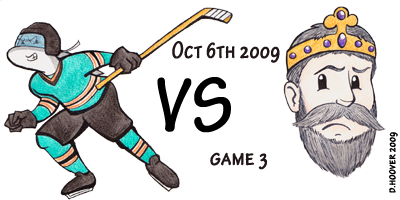 Kicking off tonight @ 7:30pm on CSN-CA with your lovely hosts, Randy and Drew! Jaime and Dan have the radio, as always. I believe Nabby will be in net tonight, but don't quote me on that. Joe Pa is
out with an injury
, which sucks, so expect to see Patty when JoePa would normally be when the second line rolls out tonight.
I haven't had a chance to see the Kings yet this season, and based off how the Avs have been playing, I'm not willing to make any predictions as to how tonight's affair will go.
Anyone see the Canucks get their butts handed to them by the Blue Jackets last night? Second period was 3 goals on 3 shots. "LuonGod" (as Mina's brother calls him) was pulled and Raycroft finished the game for him. He actually looked pretty good. You figure that one out.
Post Game Recap:
Will be posted by tomorrow afternoon. Fortunately or un, I, your humble recapper, am current busy with more pressing matters. Nothing bad, just a bit more important. The recap will be up tomorrow because of this.
Alright! Let's get this thing started, shall we?
First, The Good:
Sharks Power Play was on FIRE! Yeah! 4 stright PPGs, baby.
Heatley got his first goal as a Shark. Now people can stop with the "when we he score" nonsense and go back to getting on Joe's case for not SHHHOOOOOOTING THE PUUUUCCCCKKKKKKK.
Patty Marleau, Patty Marleau, Patty Marleau.
Despite the outcome the Sharks came back from a four goal deficient. They could have folded and given up, but they fought back. For a team that's so often accused of not having any heart, I'd say they showed a lot of it last night.

The Bad:
The Sharks 5-on-5 play was pretty stunted. It couldn't get anything going. Passes with anything but crisp, they players didn't seem to be connecting or communicating and there were a decent number of turnovers to the guys in the black jerseys. You know, the Kings?
The D was asleep at the wheel. A few shining moments, but for the most part they looked pretty terrible last night. I realize we do have new defensive parings to deal with, so I'm willing to give them all more than 3 games to sort out their issues, but last night's performance was pretty rough. Those first 3 goals against were ALLL failures in FRONT on Nabby.
Once Greiss let in that terrible goal by Purcell, the Sharks deflated. Not that I blame them, but that 5th goal was the game ender. All the momentum from scoring 4 straight to come back immediately fled the room.

The Ugly:
That goal is going to go into the new video enhanced dictionary next to the definition of the word "ugly". Your team has just come back from a 4-0 deficit and you let THAT in?
UGLY.
Ryane Clowe was so pissed by his team's performance that as he walked off the ice after receiving a 5 minute major for a fight, he slammed his helmet to the ground and yell what I can only guess was an obscenity that starts with the letter F and and with K. The fans surrounding him seems amused by this, and OF COURSE it lead to jokes about the playoffs. Personally, I think the early playoff references are the real ugly, but that's just me.
A lot of people started to crap all over Nabby about letting in 4 goals. Let me say this as clearly as I can:
3 of the 4 were NOT ON HIM.
I'm all for blaming the goalie when they suck (see Greiss, Thomas), but when the team in front of them is laying an egg, they need to be called on it.
THE FANS.
Seriously. It was like the clouds had opened up and they were raining all over the poop parade. It was GAME 3 and people were acting like it was a late season bout. Obviously, last year's post season wounds still run very deep, and people are reacting to this new season as if it was an extension of the old. By the tone of some of the comments, you'd think the season was already over.
The Sharks are 3 games in. The team changed quite a bit over the summer and you can't expect them to all have clicked and settled into their new roles or a new system just yet. Sure, last season the Sharks were on a tear early. The opened by winning 4 straight, and taking 8 of their first 10 games. But that's not the norm.
The season before (2007-2008) The first 10 games went as follows*:
1 Oct 04 '07 EDM O 00-00-01 1
2 Oct 05 '07 VAN W 01-00-01 3
3 Oct 07 '07 COL L 01-01-01 3
4 Oct 10 '07 CHI W 02-01-01 5
5 Oct 13 '07 BOS L 02-02-01 5
6 Oct 15 '07 VAN W 03-02-01 7
7 Oct 18 '07 DET L 03-03-01 7
8 Oct 20 '07 NSH W 04-03-01 9
9 Oct 22 '07 CGY W 05-03-01 11
10 Oct 26 '07 DET L 05-04-01 11
*taken from
here

2006-2007
started a tad better, but it wasn't a whirlwind:
Oct 5 W 5-4OT
Oct 7 W 2-0
Oct 9 W 4-1
Oct 12 L 4-6
Oct 13 W 6-4
Oct 17 W 2-0
Oct 19 W 5-1
Oct 21 L 1-4
Oct 23 W 3-0
Oct 25 L 1-2
2005-2006
. Look at the stats, the lost all but 2 games in November. October wasn't much better.
Wed, Oct 5 L 2-3
Fri, Oct 7 L 3-6
Oct 8 W 7-6
Oct 12 W 4-1
Oct 15 W 4-3
Oct 17 L 2-3OT
Oct 19 L 1-6
Oct 21 L 1-4
Oct 22 L 1-2
Oct 26 W 5-4OT
So you see, it's a LITTLE early to start making judgements on how the rest of the season will go. Is it a bumpier start than last year? Yes. But that's all it is.
Let's hold off a bit on the doom and gloom, alright?
And now, as promised, a section on Jamie Baker's hair.
I am SO GLAD someone gave him a comb! Last year, Jamie Baker was on camera all season with hair that pretty much looked like he'd rolled out of bed, put on a suit, and come to work. It was everywhere. All over the place. He doesn't even have a lot of it and it always managed to look extremely unkempt. It was honestly rather impressive just how bad it looked at times. Sticking up here and there, generally being all over the place while everyone else looked rather nicely coiffed in comparison.
Now his commentary and knowledge made up for the distraction of his unruly locks, but I started wondering if I should mail him a comb or something mid season because nothing seemed to be being done to help him. Did he not have a comb, perhaps? He may have lost in somewhere. It happens. Perhaps he thought the bed head look was stylish. It was in a few years back for the ladies, maybe he was trying to start a new trend amongst men.
I can see that his hair has some curl to it, and I know how hard curly hair is to control, but I'm so happy he FINALLY tamed it this season. It looks super good, Mr. Baker. SUPER GOOD! No longer will I mistake you for a man who comes to work very tired all the time.