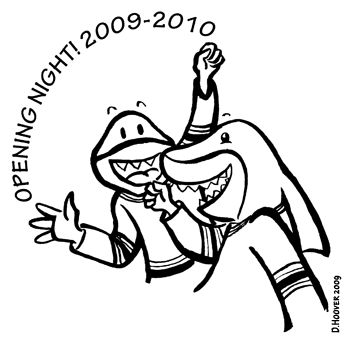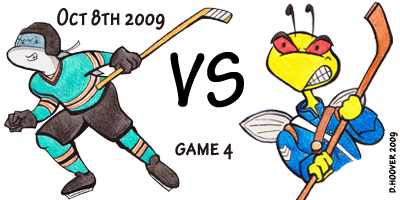 Pregame rally starts at 5pm right next to the Tank. Game starts at 7:30. Be there, or at least be watching on TV. CSN's various incarnations have all kinds of talking head chatter leading up to game time.
Post Game Recap:
Whooooooooooooooooooooooooooooooooooooooooooo!
Always nice to win the home opener, especially against a team that's been spoiling those for folks.
It wasn't a sure fire thing in the first though. The Jackets were swarming and the Sharks looked pretty bad. Slow, lost, not communicating, sloppy...it was a bad scene.
We all went into the first intermission down 1-0 to the Blue Jackets and it was looking like perhaps, this night might be spoiled for Sharks fans. There was even booing when the team screwed up.The natives? They were extraordinarily restless.
Nabby was Nabby. Some great saves and then some moments that stopped your heart for other reasons entirely. Like when he PASSED THE PUCK IN FRONT OF HIS OWN EMPTY NET OMG aldjlajfklsajjg;ogergjldg
yeah, yeah that was an intense moment.
I want to type more to recap this but my brain is like;jadjalfsj;afa;skflshattricklskjdksajf
hattrick
kkdjakdksa
joehad4assists
kdjsakdskakjf
brokenassistrecordfortheteam
jdksjdsklkf. Allow me to try and compose my thoughts....*ahem*
For the Jackets, Nash (of course, dude is dangerously good and totally pwned poor Demers), Chimera (it was a nice shot too. Tied the game up at 2 a piece) and...Raffi Torres.
We don't like Raffi Torres.
Second period saw a couple good fights. Clowe went nuts on Blunden, and Blunden left the ice with a nasty looking cut on the head. Clowe left for a bit for some hand repairs, but both returned later in the game. (At least I THINK Blunden did. I know Clowe did)
A few minutes later Frazier (Not Kyle) McLaren had an odd bout with Dorsett in which his arm got caught in his jersey and he couldn't get it out. For some reason the refs didn't stop the fight, so it continued as a weird grabbing battle which eventually ended with Not Kyle managed to free his bound arm and started hitting Dorsett.
I believe after the 4th Sharks goal (4 of the 6 came in the second) the pulled Mason and put in Giron. Did you know he was with the Pens last year? We apparently missed that.
what happened to Joe Ike?! Why is Danny Miller doing the in game announcing? And why can't he read!? Look, I'll be the first to admit I can't type (or apparent edit), but I'm just a random Jill schmo with a computer and opinions. He was epic fail ladies and gentlemen, epic fail. I'm sure he'll improve but we want Joe Ike back!
Mike Cvik did not call any phantom headbutts. JoePa wasn't playing.
JR was in attendance in the lower bowl in a nice fancy box seats. He got an ovation from us fans when showed on the jumbo tron. <3 U JR. Love the shirt JR. Loved it.
At some point poor Demers, already horribly out skated and played by Rick Nash, was shoved by Nabby in order to clear up space. I am of the opinion that he shoved him and shouted "Dis MAI Crease!" (little known fact, Nabokov speaks interwebs)
Ok, I'm going to leave it there for the night and add some more tomorrow, with any luck. My throat is sore from cheering, but I love it.
Go Sharks!