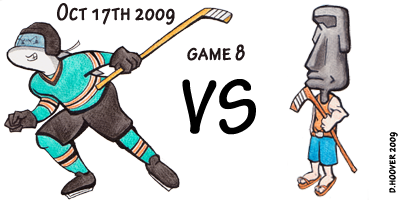 Today is several things:
Today is GAMEDAY! against the Isles at 4pm Sharks time. (Whoo hockey!)

Today is also Oktoberfest in Campbell. (whoo beer!)

And today is the 20th anniversary of the Loma Prieta quake. For those who weren't alive or were too young to remember it, the quake was a defining moment in the lives of all those who lived through it. The bridge in shambles, the Cypress Structure pancaked with people inside, the Marina on fire, all things seen when power was returned. That huge aftershock in the middle of the night that scared the crap out of those with already frayed nerves.
I have a t shirt somewhere that commemorates what the rest of the county must have seen as an inconvenient interruption to a World Series they didn't really care to much about but we're watching because it's the World Series. (the A's won that series btw, in case you aren't one of the people still stewing about that)
Other roads collapsed, State Route 1, 17 was a mess for at least a month, and numerous other streets with collapsed buildings or buckled pavement. In short, the quake was a disaster of epic proportions.
Why am I mentioning this? Because today, whether or not the Sharks are playing well come game time, whether or not the D shows up, whether or not Nabby has to try to single-handedly keep his team in the game, no matter what the final score is, remember, it could always be worse.
I've been reading The Partly Cloudy Patriot by Sarah Vowell and she has this passage about using historical references to remind herself that it (whatever it happens to be at time) could be worse.
"Though, ever since I went to Salem, I've been keen on 'Gallows Hill.' As in, Being stuck in the Boise airport for ten hours while getting hit on by a divorced man with 'major financial problems' on his way to his twentieth high school reunion is irksome, but not as dire as swinging by the neck on Salem's Gallows Hill."
I'm going to suggest that if and when the game starts to go south, Sharks fans say "Loma Prieta." As in, losing a game to the [Insert team name here] is irksome, but not as dire as being in a huge earthquake.
(and I thank Ms. Vowell in advance for not suing me. Assassination Vacation was fantastic btw)
Post Game Recap:
I was at Oktoberfest trying not to spill either or both of my two beers all over my feet during the first period, so, as far as I am concerned, nothing happened until I got into the passenger seat, turned on the car radio and heard this "...and the Islanders go up 1-0." As far as I know, the game didn't start until the 15:12 minute mark of the 1st. This is a theory I have chosen to stick with.
There was some talking about it being a disappointing first on the radio. I can only assume this was because it was so short. This may also explain why Drew was so angry.
Second Period:
Everyone must have been relieved when this period started on time and not with about 5 minutes to go, like the first had.
In all honesty, the first half of the second period is fuzzy. I had been at Oktoberfest and while I wasn't in bad shape by any means, some of the game is a bit foggy. It was weirdly warm and humid out, which didn't help. I'm also a small lass. You do the math. This also tells me that the Sharks weren't skating poorly enough to catch my attention in a negative way. Always a plus.
Anyway, what I do remember are goals clearly are the Sharks' goals. 2 of them.
The first came on the PP from Patrick "Magic" Marleau. (I just gave him that name right now)
The second came from Vesce, his first NHL goal. Whoo!
Apparently, those who were paying more attention than I noted that the play leading his goal started about a half a stride offside. It wasn't called at the time, and I don't think the Islanders challenged anyone about it (going off the SJ feed), so it stands as his first tally.
Anyway, more stuff happens: Nabby makes good saves, Huskins loses the puck to someone, several Sharks end up in the box, Randy and Drew flirt, the period comes to a close.
Third Period:
At this point I realized that the Sharks weren't skating fast circles around the Isles and I was puzzled. Either they Islanders got faster, the Sharks got slower, or it was some combination of the two.
I didn't have much time to ponder this as just 37 seconds in Joe shots the puck into the net.
Let me say that again: Joe Thornton shot the puck. At the net.
Goal 3. Yay! Holy crap! It was also on the Power Play! 2 PPGs! Awesome!
Joe also hit 400 assists tonight. Because when you don't shoot the puck, the least you can do is pass to a guy who will.
Seto scored later in the period, with help from Clowe, putting the Sharks up 4-1.
Clowe later tried to go for the Gordie Howe hat Trick, but miscalculated and fought with less than 5 minutes remaining. Kinda makes getting a goal hard. As far as I could tell, the fight between Clowe and Jackman was developing BEFORE Seto was boarded by Witt. It was just off camera, so it's hard to say for sure, but that was the way Randy Hahn saw it, and he's been watching games longer than I have, so I'll trust him on that one.
Your three stars of the game: 1st Joe Thornton, 2nd Nabby, 3rd, Kyle Okposo who has one of the coolest last names ever, I might add.