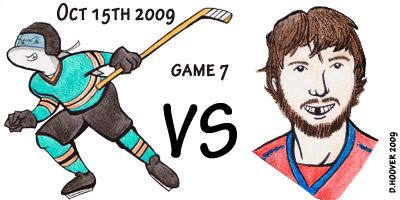 This party gets started early, with a nice East coast friendly kick of time of
4pm
. Set your tivos, ladies and gentlemen, so you don't miss this one.
Looks like the NHL network will be carrying this as well as CSNCA and the always amazing radio coverage by Jamie and Dan.
In somewhat related news:
First there was Goc Blog. Then came the short lived Mitchell Blog. Now comes
SHELLEY BLOG
!
Personally, I am hoping he'll throw up a clip of his bar of soap can of beans moment, but I'm not going to hold my breath.
POST GAME RECAP:
Hey look, in the same post for once this season! Whoo!
Well, ok, that didn't go like we wanted it to, but I love watching the Caps. I'm sorry. I just do. I root for the Pens in the post season so I shouldn't like the Caps, but I do. In fact last post season it was hard choosing between them.
Spending half the first on the PK? Not good. In fact it's a recipe for wearing out your dudes. Shirtless Joe said as much in the post game coverage.
But, on the plus side, Nabby was AMAZING and kept it a 1 goal game despite all the PK time.
And then Benn Ferriero SCORES! Whoo! Go kid, go!
Tie game heading into the second.
After that, as the say, the wheels fell off.
Ovie scored two goals in less than 30 seconds. I'm wondering what he said to Nabby in the first. Can anyone lip read in Russian?
In all honesty I sort of half paid attention after that. I've been pretty busy and I was working on wrapping some things up, and the part of my brain that watches hockey was otherwise engaged. Usually I can listen/watch/write fairly well without missing much, but not tonight. I'm tired. What can I say?
However, I did notice that our D was kinda falling apart.
Ok, maybe no kinda.
Nabby was still great, but he's first period performance was repaid with less than stellar work from his D. Not a constant march to the penalty box like the first had been, but they weren't doing him many favors.
A lot of the Sharks looks SLLLLLLOOOOOOWWWWWWWWWWW. Joe said, in his shirtless interview, they were all gassed after the PK filled first. I'd believe it.
Patrick Marleau doesn't know tired though, and continued to press and fight and nearly score later in the game. He wasn't worthy of the C because...? If nothing else, he's been playing better and faster having had the C taken away from him. Showing everyone what we already knew: he's GOOD.
The Caps pretty much dominated the 2nd and 3rd. Thing is, I kept reminded myself I was a)happy to have hockey back and b)I'm not a Leafs fan. These things lead to things tweet:
I am not going to worry. I'm just going to watch and blog and see where this season takes me
I stand by that. See you all for the next game on Saturday! Go Sharks!