Didn't we just see these guys?
4pm this afternoon, radio & Stanley's. Check in with Fear the Fin's game day post for interwebby goodness.
We have travel + injuries+ a game tomorrow + a long game agains the Kings on Monday. Am I a bit concerned? Yep. Hopefully the Sharks will recall their last game against the Blue Jackets, ( I know I do. I was there) and adjust their play accordingly.
---
In other news:
In case you, as a Sharks fan have been feeling a bit miffed that your team and its fan base (that would be us) is getting crapped on despite being fantastic so far this season, Mr.K (you guys have too many Misters over there. I get them mixed up) has vented for us all
here
. This is our ride, internet, and we plan to enjoy it.
One of our favorites, Ryane Clowe, is this week's "Ask the Sharks"
featured player
. Let's get some good questions to him, Sharks fans.
---
And now for something almost completely different.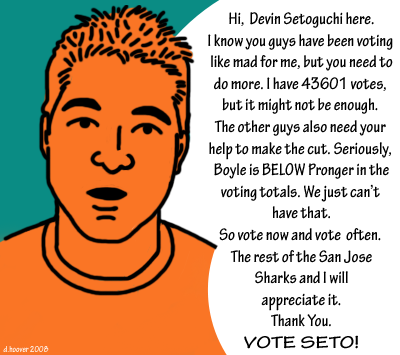 Post Game:
Sharks Lose 2-1 in OT. I'd write more, but I've been stuck in a cold (no heater!), cramped room all day. It makes it hard to focus after hour 9.
Mason stole this game.
Crabs in a bucket should be discussed at length next OT. (I enjoy the radio banter, don't you?)