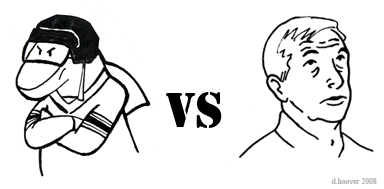 I tried to capture RW in his natural state: exasperation.
These two aren't facing each other for a reason. I don't think we need to rehash the communication problems RW and Marleau, (arguable RW and the entire Sharks team), appeared to be having last season. The story line of tonight's game will be whether or not Ron Wilson's Leafs can defeat Todd McLellan's Sharks. Or, if you prefer, can Todd McLellan's Sharks defeat Ron Wilson's Leafs.
Who has to more effective style? Can the Sharks play against a version of themselves from past seasons? Nabby vs Toskala. Toronto media vs whatever the outcome is. RW vs Toronto media. It's a night of battles, and the most colorful will likely take place off the ice. Tune in because it should be a good game. You can read about the media frenzy tomorrow.
I wish I had tickets.
7:30 pm, Tank, TV, radio, and potentially
here
too.
---
Shameless self promotion again. I still have shark covered
holiday
cards
, and other
assorted
items
of awesome for sale. If you think the economy is tough right now, try running a business in it.
Again,
these are my own creations and not in any way related to the San Jose Sharks.
---
Post Game:
Sharks Win! 5-2
Four of those five goals were scored in the first. Early pizza night in the Tank. Om nom nom
Sharks goals by: Seto, Joe, Boyle, Vlasic (PPG), Joe Pa (SHG)
Leafs goals by: Kulemin & Hagman
Killer first. Not so good second. Decent third. Good game overall.
Vesa, I <3 you, I do, but, I wanted to see the Sharks win. Sorry.
I really wanted Armstrong to get his first NHL goal. So did Armstrong. It almost worked out too. He managed to get on the score sheet, but it was a 2 min. penalty for hooking. Next time, Riley!
The Sharks tied the NHL record for points through the first 25 games with 43. If you didn't watch them game, then you didn't hear how they mentioned that possibility over and over and over.
Mina lets us know that last season, it took until Dec. 26th for the Sharks to hit 43 points.
The Sharls are also the only remaining team to not have a home loss in regulation this season. I'd like that to continue on Thursday, when I am at the game. Just saying.
Ron Wilson travels with his own Leafs background for press stuff. Awesome.