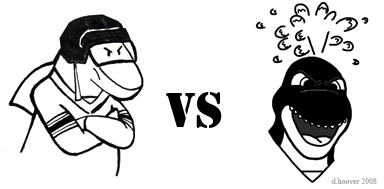 Fin is, hands down, the most terrifying mascot in modern sports history. That bunny from Donnie Darko would be less frightening.
srsly
We were at this game last year, perhaps even the year before. This year? We'll be watching it on tv.
Canucks hit the Tank tonight at 7pm. That's SEVEN, not seven thirty. Set your tivos accordingly.
---
As soon as my house is put back together, I'll have an overheard at the game for everyone's viewing pleasure
---
Post Game:
Well, that was...awesome.
A few problems, mostly the second and the no goal on the 5 on 3. The Canucks controlled most of the second. The Sharks need to work on adjusting once teams figure out there game. Thankfully they have some time to figure that out.
Canucks looked much improved over last year, despite the score.
Yes, we did think that high stick to the face of a Canuck (
who's name I don't know
Alexander Edler) should have been a penalty. We assume it wasn't because the refs didn't see it. At least, we hope that's why.
All you "amg teh skies r fallin!" folks who bailed after the loss to the Wings, this game reminds you that there are 82 games in a season. (I'm looking at you, majority of hockey interweb denizens)
Sharks goals (all of which were beautiful) by Blake, Marleau(PP), Seto (PP), Joe, and Plihal all of which were scored in a record setting time for the team. 21 minutes, 5 goals. Booyah
Nabby gets the shut out. Wheeeeeee
I almost forgot! It was nice to see former Sharks Bernier (a Minako favorite) and Rob Davison again. (though we're glad neither got a goal tonight) While I feel like I mentioned him moving in the off season, neither of us realized Davison was playing for the Canucks. oops.
If anyone tivoed the game and has the Sharks trying to sing Jingle Bells at the end, please, please, please put it on youtube and send us the link. That was full of win. That kind of awesome should be shared.