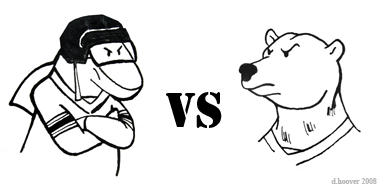 This afternoon, 3pm. Radio only. Fear the Fin will likely have the stream.
You ever get the feeling no one wants us to see the Wild this season? The last time the Sharks faced them it was Nov. 4th. The game was notably not a sell out and likely had poor tv viewership until the third period. Election Day games, gotta love'um.
The Sharks will be facing off against a Wild team that's had a bad month. They're on a two game losing streak so far and will likely be desperate and dangerous. The Sharks play has been less than holyeffamazing lately and they'll need to work to adjust and stay in control for a full 60 minutes.
Post Game:
Uhm, full 40 minutes?
Ok, so I missed 10 minutes of the first due to radio issues. Online feed was booching, I couldn't get the radio to give me anything but static, and my little FM radio didn't work even when I took it outside. Part of my dissatisfaction with the first comes from that, although, from what I heard it wasn't the strongest 20 minutes for the Sharks.
Sounds like it was a good first for the Wild.
Nolan got a goal. Semenov got a penalty.
I wanted to hear Jamie and Dan recap stuff, but my machine is lagging so bad I had to cut the stream.
Anyway, much better second for the Sharks. They were in control for most of it.
Was the second when there was that really quick whistle that cost Minnesota a goal? That was a bad call.
Third period was back and forth. Wild actually got two goals in the period but one came before the other and they didn't bother to stop the play until after the second. What?
After that got sorted out, the Wild remained up 2-1. One of those goals came on a really terrible call (balancing out the earlier quick whistle) on Joe Thornton for goaltender interference when really, not so much.
Someone how Milan scored with 23.6 left.
Sharks lose in OT though. But hey, point!
Can everyone please stop with the panic? Geez people, so Decemeber wasn't as great as October and November. It wasn't horrible. Relax.
Here's hoping 2009 will be even better for the Sharks than 2008 was! Now go out there and party it up!