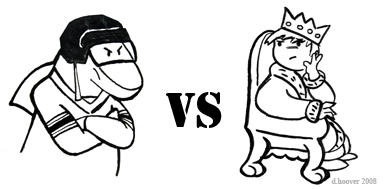 7:30pm Radio, Stanley's, Interwebs
JR on IR
McGinn is up
I'll cover this as best I can. My house is currently a war zone of torn up carpeting and splintered wood.
This isn't the best game to post this during but, in case you still haven't voted for the all-star game, Devin Setoguchi has some advice for you below. (I'll adjust the stats later to match his current totals. Those are old stats folks! He's good! Vote for him!)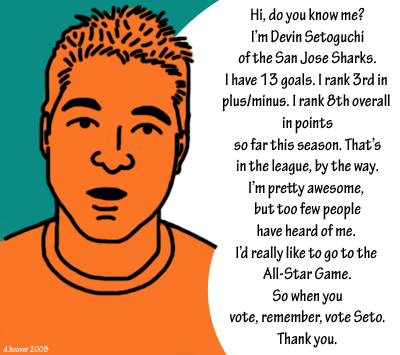 Post game:
Boom. Poke Check. Game ends 3-2 Sharks over Kings in the shoot out.
The Sharks now have 52 points on the season. Let that sink in for a moment.
Penalties were a tad one sided, in my opinion. The Sharks were 1 for 1 on the PP. Jamie Baker took credit for the lack of calls in the Sharks favor. Apparently he ran into the officials before the game and jokingly asked for a quick game, because the Sharks have a long flight to Columbus. He got what he asked for, although, I felt like the lack of calls in favor of the Sharks made the game feel a tad longer at times. Or maybe that was all the calls going against the Sharks. Or their slow start. Or all of the above.
Patty and Clowe have the regulation goals for the Sharks. Greene and Purcell had the two regulation tallies for the Kings. Clowe gets the shoot out winning goal.
Ryane Clowe is awesome.
Grier had another awesome chance and didn't quite connect. One of these games, he'll do it.
Three Stars: Boosh, Greene, Patty Marleau.
Super good effort by the Kings. In a few years, we're going to really dread games against these guys. They were dominate in the first. Pretty even second and a messy third by both teams.
Kings goalie Ersberg left after suffering a lower body injury while making a save. Get better soon, mr. goalie, sir.