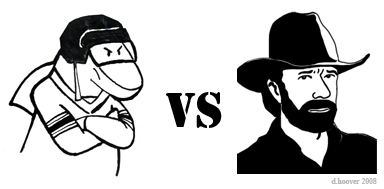 Can anyone really own Walker, Texas Ranger? CBS & NBC, you guys fight it while we continue with the game day post
Tonight @ 7:30. Radio, TV or Tank

Number 1 team in the West vs the Number 2 team in the East. It's a clash of titans, folks. We're rooting for the Sharks to come out on top.

Post game:
Meet up plans met with fail. We think we walked right past Mr. Plank without knowing it.
Sharks, however, met with win (despite their best attempts to lose in third)
Post Game Recap, the short version:
Awesome first, in between second, terrible third, last 3 minutes were good though.
The Sharks showed how tired they were in the third and it nearly cost them the game. Luckily, Nabby was able to steal the game and get the Sharks the win.
Two quick goals in the first, both on the PP. Boyle and Clowe
Clowe gave up a puck that would later go in the net behind Nabby. It was also a shorthanded goal. sad times for everyone but the Rangers on the ice and the man who scored the goal, Zherdev.
Patty got a goal in the second, with assists from his top line team mates. Have YOU voted Seto today?
Rangers also got a second period goal from Callahan.
Rangers were quick and capitalized on many of the Sharks mistakes. Good game all around for them.
Cheehoo had both an assist and a penalty to get on the score sheet. We were hoping for a bit of a break out game from him but no such luck. Only a matter of time until he's off the schneid.
Air sharks had Christmas lights.
Sharkie came and entertained our section for a good hunk of the either the second or third. Hilarious good times.