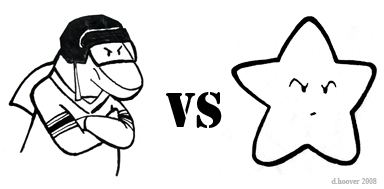 Tonight at 6pm, radio, tv, interwebs
(I was having blogger issues this morning. Let's try this again!)
Dallas has gone from slumping sucktasticness to not so bad. (still not very good, but...hey, they have more points than the Blues) That Sharks didn't play their best game of the season Saturday, but they didn't play their worst either. They are, however, playing terribly for the first time this season. So, what does this mean for tonight?
If the Sharks don't come ready to play, and they don't play with passion, Dallas has a very good chance of winning this game. The Sharks current play is concerning to me, enough that I had a dream about them losing to the Leafs last night. (seriously.) Let's not let that ever happen, ok gentlemen? The Sharks can start a trend towards more fantastic play by playing a solid 60 minutes against the Stars tonight.
Let's go Sharks!
By the way...
Hand wavey freak outery commencing in 3...2...1...
Post Game:


Fear the Fin was CRAZY tonight. Wow. Three game time threads, one Indiana Jones reference and a Hitchhikers Guide reference. Fantastic.

The Sharks play, however, was not so fantastic. It was a

better

game than the one against the Blues, but it was by no means great. It was a close approximation of good at times, and lacking passion at others. They need to get back into early season form if they want to stay head of Boston in the point race. Also a factor is the ever looming presence of Detroit. They currently have 51 points.

I'm not sure why the Sharks have been flat lately. All team, yes even the Red Wings, go through some periods of less than stellar play. Perhaps we're just in a down part of this seasons' cycle for the Sharks. Maybe they have some sick guys on top of their injured ones. Could be a lot of things. The question is, now that the Sharks have hit a slight bump and the rest of the league appears to be adjusting to their new style, how will the Sharks respond during the second half of the season?

Some chintzy calls, some non calls, I'm not sure what was going on tonight but the refs were ignoring things on both sides.

Semenov's glove scored a goal for Dallas. Boo. But then he blocked what was likely the tying Clowe to score an empty netter. yay!

Dallas played agressively all game. Sometimes a little too agressively. (stick to the back of Boyle's head) Though there were times when they seemed to collectively fade, they never gave up and kept themselves in the game even when they went down 2-0.

Cheechoo and Milan also scored. Milan's goal was amazing. Find it, watch it, love it.

Edit: Ask and ye shall receive.