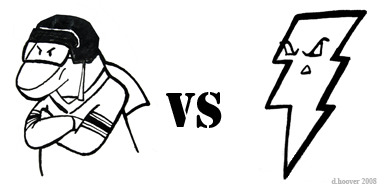 Tonight at 7:30, radio, tv, tank,
Mina will be at the game with her, "Stamkos will lead the Lightning to the promised land" brother. You know, he might have been right if it wasn't for that whole crazy management trading players left and right thing. (or
wanting to
. No job security anywhere nowdays)
Unlike the last time the Sharks saw the Lightning, which was the big return for Dan Boyle, this game IS on tv. Fancy that. The Lightning come into this on the verge of the CA sweep. Let's send them packing with just 2 outta 3, eh boys?
Other things:
I forgot, Lukowich is out due to sports hernia surgery.

Post game recap:
Um, wow.
Just wow.
Sharks win 7-1.
This game was great for Sharks fans and terrible for Lightning fans. Also pretty bad for a couple of the guys on the Lightning. Important life lesson: in hockey, as in baseball, it's a bad idea to run your mouth off to the guys who can boot you.
I'm a bit under the weather, so I'm going to leave the recap at at that. Mina can add on if she wants to later.
"Let's go Grier!"