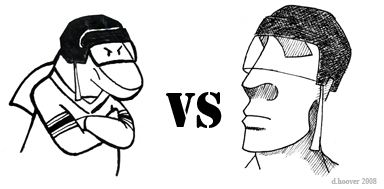 Were you expecting a Long Island iced tea?

7:30pm, radio, tv, Tank, interwebs.
We'll be at the game. Mina has a thing for goalies named Rick DiPietro. She bought the tickets before he broke for half a season. Should be a fun game.

Islanders fans will probably come out of the woodwork for this one. Who wouldn't?

Post Game Recap:

Semenov fought an Islander in the first. Let me repeat that. SEMENOV fought someone.

Know who else got in a fight? Ehrhoff.

I think the first level of hell just froze over.

Anyway...

The game started out with an awkward picture ceremony and delivery of a fake to check to Joe Thornton. Joe is Seagate "Player of the Month" for Dec. Go Joe!

The first was a pretty good period for the Sharks. I felt like every time I looked down at my Chinese Chicken Salad the Sharks had a shot on net. Clowe and Grier (Grier!) both got goals, with Grier's coming right at the very end of the period. Whoo.

Semenov's aforementioned fight was also in the first. Again, I was looking down into the abyss that was my salad and missed what started it.

Anyone notice Semenov was playing forward? Took Mina most of the game. I'd read about him possibly playing forward before the game and wasn't surprised.

Ehrhoff also fought in the first. Apparently he punched Streit and Weight took offense. I didn't see the punch as I was once again lost in a sea of lettuce.

Penalties were hard to find in the second. Mina suggested that the refs thought that $2100 up for grabs if the Sharks got a PP goal in the second was coming out of their pockets.

AT one point my lettuce too offense to a non call and attacked Mina. She survived but was a bit surprised by the attack.

The third saw a lot more time in the Sharks end as they sat back and let the Islanders try to win the game. Ryane Clowe gave up the puck that ended up behind Nabby for either Islander goal 2 or 3. Either way, less of that please. A full 60 minutes would be awesome.

The elderly gentleman who ended up sharing part of my walk home said he thought Nabby was dreaming when Islander goal 3 went in. (that was the one that might have been off a high stick, but didn't.)

Empty net goal in the final moments of the third sure took some effort, but it finally went in the give the Sharks a 5-3 win over the Islanders.

Wondering how the kid (Joslin. We refer to all the rookies as "kid") did? He got on the score sheet with a roughing penalty in the third.

Cheecho got three assists. Go Cheech!

Three stars were MacDonald (makes sense), Cheechoo and Grier.

And now, some love for section 208.

208 is an amazing section. We've sat in 209 before and that was an experience not for the faint of heart or inclined to lean. 208 was full of awesome and we'd love to sit there again. Our regular section kind of blows. It was refreshing to sit around a good group of folks instead of next to grumble mc grumbleson who yells at us for talking and then leaves after the 1st. So to the folks at the end of rows 15, 17 and next to us in 16, you rule. Thank you for being so awesome.