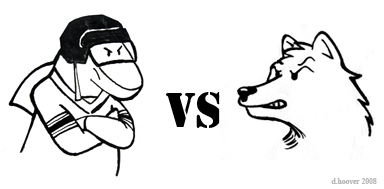 (Mina would like to remind people that she thinks it is unnecessary to play Phoenix...at least so she can avoid getting angry with hockey)
Tonight @ 7:30. Radio, TV, Tank, Interwebs


Why did I think this game was tomorrow?
Anyway, it's always a guessing game when the 'yotes come to town. In past years, they've been at the bottom of the barrel and still managed to embarrass the Sharks. This year the Coyotes are playoff contenders and currently sit in the 5th spot in the West. This could be quite the game. Be sure to tune in.
As an related aside, watching Shane Doan at the All-Star Game was great. He was so happy to be there and his giddiness was infectious. He was fun to watch.
Post Game Recap:
That game was exhausting to watch. Imagine playing in it.
Second straight shut out for Nabby. w00t 24 saves, some spectacular.
The post is sometimes your friend, but at the end of the third, it was the enemy. Seriously, how do two guy hit the post/crossbar? The odds of that...
Brzygalov got the second star of the night and deservedly so. He was fantastic all night.
The Coyotes looked good. If the Sharks see them in the playoffs, expect a challenge.
It looked like Ehrhoff's second period PP goal was going to be the only one all game, though the Coyotes threatened on a very late power play after Blake went off for a hooking call. (he didn't seem very pleased that)
The one goal lead was nerve wrecking.
Carcillo couldn't stay out of the box.
Randy Hahn's line of the night "It's fish versus mammal!"
The Clowe v Winnik fight was short and involved more jersey pulling than punching. Sometimes that's how it goes.
Marcel Goc was not denied by the empty net force field and got the (very late) insurance goal with 14.3 seconds left.
Semenov had a decent game. Don't you wish you went to say hello to him now?
The post game interviews were nearly all shirtless. Joe Thornton's shirt aversion is spreading. First Seto, now Clowe and Ehrhoff. Who's next?
Stars: (3) Ehrhoff, (2) Bryzgalov (3) Nabokov