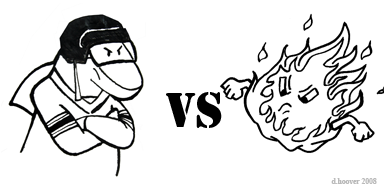 tonight @ 7:30 radio, tv, tank, interwebs
Black armor night tonight. Let's hope that's what the Sharks need to extinguish the Flames.
Don't forget to check out
Fear the Fin
's live thread-a-palooza tonight. I will be there, and likely on cold meds. Should be a good time.
Post game recap:
Joe had a good night. Clowe had a good night. Nabby did too, for the most part. The rest of the Sharks, well...
Ok, so it wasn't a bad game by any stretch of the imagination, but the Sharks weren't firing on all cylinders all game.
The Flames had a good night as a team.
The dreaded home regulation loss had to happen sometime.
Rob Blake was hit in the head by a puck. Not sure how he's doing at this time.
Will potentially add more later. No, I'm not sad, I'm just sick.

Minako's Stat o' the Game: 0 for 5
The Sharks failed to convert on the power play, including some 5 on 3 time. It was part Kipprusoff, part well played defense, and part the Sharks inability to be on the same page. (see more later) Meanwhile, the Flames converted on only 1 of their 5 opportunities that but seemed to make all the difference. In a game where both teams are playing well, small mistakes and missteps are going to cost you and they cost the Sharks big.
Minako's Word of the Game: "self-inflicted"
Drew said it. The one of the coaches said it (though I can't remember which one right now). The problems that the Sharks had were self-inflicted. They seemed to be on different pages all night. Passes weren't connecting, players missed assignments, and those mistakes bit the Sharks hard. It's hard to put a finger on what caused the missteps, but it shouldn't have been a line up issue as Shelley was the only addition and Semenov was the only subtraction. Certainly losing Blake was a big deal, but the Sharks will have to learn to overcome those issues especially against the good teams in the league. Tonight was less about the Flames beating the Sharks and more about the Sharks beating themselves.