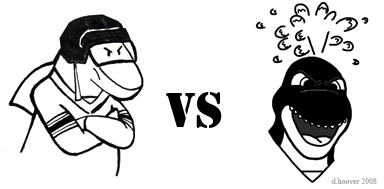 Tonight at 7pm. Radio for me, CSN+ for some, internet for all

Fin is still freaky.
We'll get our first look at what may have been an annoyingly good (if not pricey) acquisition for the Cancuks tonight. I am sure you've heard of him. He goes by the name of Mats Sundin.
I never really watched Mats, so I don't know what to expect. I know he's a good player and he's been in a bunch of All-Star Games, but aside from that, I've not paid too much attention to him. Until very recently, I really didn't have to.
The Canucks have certainly been scoring goals with him on the ice. Could be interesting, but as always, should be fun.
As requested: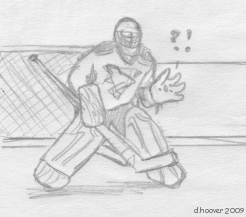 Boucher gets a helping hand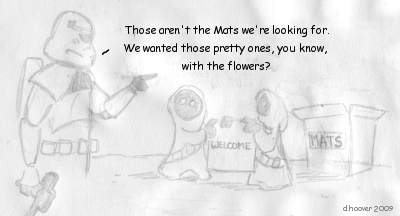 Star Wars is all yours Mr. Lucas.
The back story: I spent all last game drawing and I hadn't done as much this game. Thinking perhaps there was a correlation, however small, between my drawing and the Sharks performance, I asked for suggestion of what to draw over at
Fear the Fin.
The above images are the end result of two of those suggestions.
Post Game Recap:
What a back and forth game. I think the Sharks spent most of the first two periods on cruise control. Maybes they were napping, I don't know. Whatever they were up to, it was not their best effort. It was enough to get two points, but just.
The Canucks looked MUCH better than the last time the Sharks saw them. Mats was apparently what the doctor ordered.
Following the grand tradition the Sharks seem to have started this season, Mats got his first goal of the season tonight. Is there an award for giving up the most first goals in a season?
Patty once again got two goals for the Sharks. He can keep doing that all season if he wants to.
Boucher made some crazy good saves. Crazy good.
Sharks goals: Blake (PP), Grier, Patty (PP), Patty
Canucks goals: Sundin (PP), D. Sedin
3 stars: (1) Blake (2) Marleau (3) Sundin