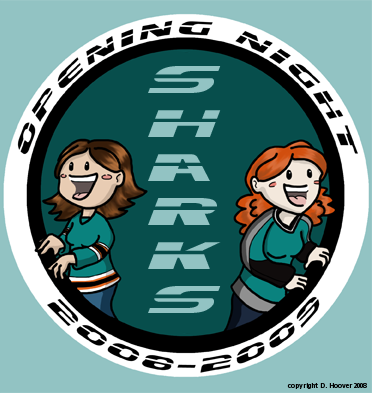 copyright 2008. Let's not go spreading this around the interwebs folks.
WHOOOOOOOOOOOOOOOOOOOOOOoooooooooooooooooooo!
Playoff atmosphere was in full effect for opening night. Ducks hunting season signs, a load and rowdy Tank, street fare, hatred between fans of opposing teams that boiled over into a fight which somehow turned into a fight between two Ducks fans, Pronger was booed, most of us went hoarse from cheering and best of all, the power stayed on and Cheechoo's feet didn't end up punching holes in the wall. Oh yeah, and we got this really cool looking banner that says Pacific Division Champions on it. It was pretty awesome.
Speaking of Cheechchoo he got 2 goals, hopefully marking the start of a long and beautiful season full of scoring. He nearly had a third, but was denied an opening night hat trick by someone in white. Setoguchi had a pretty awesome goal and Ehrhoff found the net, much to the amazement of all the Sharks fans in attendance. Someone finally gave him a map to the net. I'm not sure how to handle a world in which Ehrhoff gets shots on net, but I can and will adjust. Gladly.
Blake was impressive and the entire team looked more relaxed and more like a team then 4 lines of guys who just happen to be wearing the same jerseys. These are definitely not Ron Wilson's Sharks and I am so okay with that.
Cartoon to come in a later post.
Go Sharks! Congrats to McLellan on your first NHL win as a head coach!