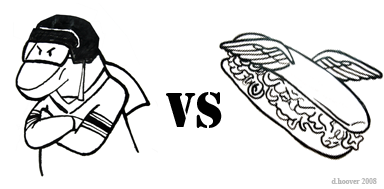 Round two of the Sharks versus the Flyers. The Flyers will be coming into this game very desperate given that they're last in the east and still looking for their first win. Should be a good one, skip out on work and tune in at 4pm to watch.
1st period report:
Normally I wouldn't do this, but so far this game has been CRAZY. In 20 minutes I think they played a full 60 minutes worth of hockey. No joke.
Sharks are turning the puck over too much which has lead to some scary times in front of Nabokov.
Short handed goal for Philly right off the bat.
Niittymaki is a thief. A fantastic amazing thief.
You know what makes things more interesting? Turning the puck over in your own zone. Nabby makes two quick and amazing saves to keep it at whatever the score was at that point. (1-1?)
Mina says: "Who are you and what have you done with Ehrhoff and why didn't you do it sooner?"
Philly is playing like madmen on fire.
Somehow Jody Shelley ended up on what looked like the Flyers bench. He ended up in the box.
Goals goals goals. This game is crazy with goals.
Goal so far:
Philly:
Carter, short handed
Richards
Upshall, PP
Sharks:
Pavelski, PP
Clowe (yay!) PP
Marleau
Setoguchi
Didn't watch the first? You really need to tune in.
2nd Period:
Grind, grind, grind. 2 more goals, one for Philly (Lupul) and one for the Sharks (Boyle). Less penalties, but just as many scary moments. Lost of good chances on both sides.
Did I mention we started the second with a new goalie? Biron is in, Niittymaki is out.
Randy and Drew were on fire. That bit with them talking about what Biron was thinking at the end of the period when he was pulled for an extra skater? Comedy gold.
3rd period:
Holy eff.
I missed the two early goals in this period because I was busy arguing with some squirrels. (don't ask)
The Sharks got a little sloppy at times in the third, but so did Philly. Both teams look tired at times. With all the crazy that occurred in the first two periods, that's no real surprise.
That goal right at the end by Philly to tie, I saw it coming. I came into this game figuring that there was no way Philly went down 0-6. They had to win. I figured it would go to the shootout, which, after a nail biting 5 minutes of sudden death, it did. No way the Sharks win in the SO, right? The Sharks are terrible at shoot outs, no way they can pull this off, right?
Wrong.
Nabby blocks both shots he faces. Pavelski, after having to wait for a patch of ice to be fixes, scores on Biron. It came down to JR, who easily puts one past Biron for the win. Woot!
Final Score, Sharks 7, Flyers 6. 3rd period goals by Marleau, Lupul, Breier. Shoot out goals listed above.
Awesome.
Edited to add: For JR to score the game winner in what may have been his last game in Philly is pretty fantastic. Way to go, JR!