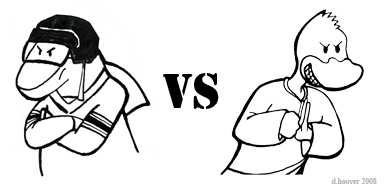 Sharks and Ducks meet again tonight. We all know the Ducks are angry about their slow start and will be looking to get their first win. We all know the Sharks are hoping to get an early lead on the division. I know the Ducks are dangerous. I don't assume anything. You won't find game day predictions here.
With luck, both Mina and I will be doing the live blog over at
We Bleed Teal
. I'll be in and out for the first period or so.
Post Game:
Eh, 4-0 Loss. You probably expect us to be crying in a dark closet in somewhere but we're not. It's just game 5 out of 82. No need to panic. It is better to lose early in the season than to go up 19-0 and become last season's Sens.
I unfortunately didn't get to do as much live blogging or game watching as I wanted, as I was stuck doing something else that required me to watch most of the game online without sound. Boo to that. What I did get to do was fun, though. Big thanks to Mr. Plank for hosting the live blog event.
Staubitz = solid kid. Welcome to the NHL.
Mr. Plank put up a pretty good quick summary of ther game
here
.