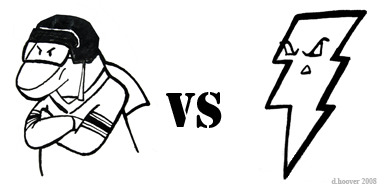 Otherwise known as the game very few people in Tampa will be watching. Baseball moves slow, guys, be sure to tune in during longs breaks in action to focus on the fans doing fan stuff, like eating or talking or generally not watching the game. I'm a baseball fan, I know what people do at games.
Originally I didn't think I'd be around for the radio broadcast of this game, but now I might be. Review to come.
---
Ok, maybe some people DID watch this game, thanks to the World Series rain delay. They saw a good one too. I kinda wish they'd aired this game instead of last night's lack luster one. I missed the 1st, but from what I heard during the 2nd and 3rd, it was a great game. Sharks dominated all night. I also liked the little story time interlude during the second intermission. I had no idea how crazy the media coverage of the Leafs was. (Did they really boo Toskala last
pre season
? That lacks class, if that's true.)
Goals By Goc, Clowe (Clowe!), Setoguchi.
Boucher was solid and got the shutout. Have I ever mentioned how happy I am that we signed him?
Nice to "see" Matt Carle again. Hope Mr. Melrose is treating him well.
Good game, shame it wasn't on tv.