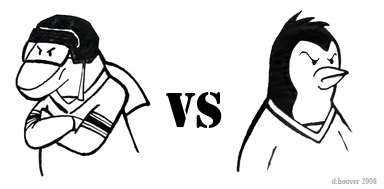 The only thing I know for sure is that this game will be a good one. Radio, TV or Tank, 7:30pm. Be there.
**********************Mina's Take*********************************
(Also known as a post from that other girl who works here)
In the 3+ years that Sidney Crosby has been in the league, he has only visited the Tank once. Gray and I did not attend this game so this is our first opportunity to see the Kid in action and I'm really excited.
Mike Chen is right
. It will be a good test of individual Sharks (particularly the defense) to see how they match-up with some of the good young talent on the Pens. Sure they aren't the same team as last year with some notable subtractions. But for a team that is supposedly "struggling" with their offense (only 23 goals in 9 games and limited secondary scoring), they have 12 points which is only 2 fewer than the Sharks. If this is a "struggling" Pens team, I would hate to see what they can do when they are hot.
By the numbers, this game looks fairly defensive. I was amazed to see that the Sharks are 2nd in the West with a 2.44 GAA and only 6th with a 3.33 GFA. On the other side of the coin, the Pens are 10th with a 2.56 GFA and 2nd with a 2.11 GAA (side note: the Rangers 1.92 GAA is nuts. Absolutely insane.) On paper this looks to be pretty defensive game with two very good goalies, regardless who starts. I sincerely doubt either backup will see any ice time, but both Boucher and Sabourin have done very well in limited time (even though everything is really limited only 9 games in).
In terms of defensive responsibility, the Sharks look to be doing better with only 5 roster guys with negative +/- ratings (Boyle, Shelley, Roenick, Clowe, and Plihal) and none have more than an -1. The Pens have 7 guys, including Talbot at a -4. I'm pleased to see that Marleau and Erhoff (another side note: Who is this guy pretending to be Christian Erhoff this year? I love this guy!) have +5 and Malkin is the Pens top at a +4. Despite the cliche, special teams will be key tonight. The Pens have a decidedly better power play unit (22% to 18.8%) and a better penalty kill unit (85.4% to 82.4%). If the Sharks are going to do well, they need to get out of this funk they have been in on the power play and break through against the Pens. I'd love to see 5 power play goals like they had against the Wings a few seasons ago.
Realistically, I spent too much time analyzing a October out of conference game than I should have. But I think it's a good test to see what the Sharks can do against a team that made the Stanley Cup finals last year. Both teams have done well defensively, but when they are on their game they can score goals quickly and in bunches. Honestly I am hoping for a shootout and a high-ish scoring game. But I agree with Gray in that this game has the promise of being tremendously entertaining. Or a complete and total disaster for the Sharks. Either way. Of course the idea of having the Sharks ripped apart by pensblog frightens me more than the possibility of the Sharks losing (I'm not sure I could handle a photoshop of Joe and Patty making out).
I have given up the idea of making realistic predictions about the outcome of any games and will stick with a more simple prediction. Given my track record on how well players I want to see do in games I see them in (see: Vesa Toskala, Martin St. Louis, Rick Dipietro, Crosby, Malkin, etc.), one of the Wonder Twins won't play at all and the other one won't score. Only because I want to see a highlight reel goal.