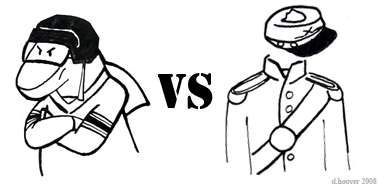 So we're going to try something new. I'm going to try and get little thingys up before each game and then after, or during, Mina or I can add a game review. It's going to take me a little while to find a format I like, and settle in to it (not to mention doing one of these for every team) so don't be surprised if this changes as the season progresses. Also don't be shocked if we miss a few games.
(Enjoy the US history reference in the cartoon)


Post Game:
WOW.
If you missed that game (Mina) you missed a helluva good one. 2 short handed goals, 1 PP goal and 1 even strength. First time ever the Sharks start 4-0.
JR had some words for Dorsett and most involved an F followed by a U and the occasional "punk." Even after the Refs pulled Jr off the stunned looking Dorsett, he went back for more. He was PISSED OFF, ladies and gentlemen. Hell hath no fury like a Roenick scorned.
Shelley slammed a couple guys so hard, I don't think they knew what hit them.
1st period still needs work. I'm sure that will improve, (quickly I hope), as time goes on.
The second was amazing. Totally made up for the extremely slow and sloppy first.
The third had a few nail biting moments, like when Nabby was sprawled out on his back and some how Columbus didn't score. (Thanks Joe's stick!) Few spots in the third where the Sharks couldn't get the puck or clear the zone, something they also had issues with in the first. I'm sure they'll be running drills on that a bunch between now and Friday. Despite that, the third was filled with moments of brilliance. This was a great game. I scared my cats a few times, I cheered so loudly.
They chased Leclaire in the third. He looked stunned coming off the ice. Someone started talking to him the minute he stepped off, not sure who.
After the second shorthanded goal (I think) they cut to Hitchcock. Disappointement doesn't cover what was on his face.
Not to ignore the fight that Columbus put up, they played hard all game and were very dangerous at times. They scored about 36 seconds after Cheechoo tied it at 1-1. I think it was their first line that was problematic for the Sharks. Nash was kept scorless. Barely. His shot rang off the post. Nabby slid over, but not in time. Thanks post!
Goals: Cheechoo, Patty, Milan, Patty (yes 2!), Vlasic.
Three Stars: Big Joe, Nabby, Patty.
Whoooooooooooooooooooo!