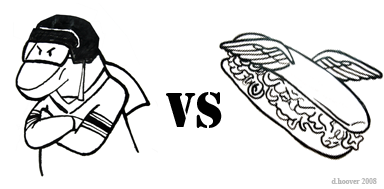 A cheese steak with wings?
It was the best suggestion I received while I was racking my brain over how to represent the Flyers. After ruling out the historical references to Philly (there was discussion of a Liberty Bell with wings or a picture of the 1st or 2nd Continental Congress), and a bully, a cheese steak was settled on as the best way to represent the City of Brotherly Love. If anyone has a better idea, let me know in the comments.

Post Game
Gray's Take:
What a game! Talk about a roller coaster, this game was
crazy
.
The Sharks needed to give Nabby a little more support. They weren't covering Philly well at times and I think Nabby was having a bit of an off night. Maybe the fact that he faced so few shots added to that. Either way, there were too many scary moments in front of the SJ net.
Boyle, (our game winner), had some words for Richards. None of them were very pleasant.
Shelley standing up to Cote was pretty solid. Sending a message early, letting the other team know the Sharks will no longer take getting pushed around. (And this time sending that message didn't make us lose Thornton for 7 minutes. Always a plus.)
Niittymaki made some amazing saves.
I was a little down that we didn't score on the 5 on 3.
Everytime Philly got a goal, I knew the Sharks could answer. Ehrhoff got us rolling, then Cheech, Pavelski and Setoguchi all jumped in to keep the Sharks in the game.
Pavelski's goal was a thing of beauty. He made it look so easy.
Congrats to Dan Boyle on his first goal of the season and as a Shark. Game winner too. Nice.