Sorry this is running a tad late, folks. Duty called.
Anyway, last night saw the Sharks play the ever scrappy Oilers at home, after having been on the road for what seemed like an eternity filled with 4 o'clock games. As fate would have it, I had a few things to do away from my TV starting around 6 pm. This meant that I was likely to miss part of the game. Being the fan I am, I brought a mini radio with me, so I could listen to the game whilst taking care of business. Indeed, I was that jerk in the store listening to their headphones while you're trying to shop. I felt silly, but when the Sharks play the Oilers, I feel my attention in necessary.
I was thankfully in the safe recesses of my car when Edmonton went up by on towards the end of the period. I was in public, however, for Joe Pavelski's goal, and the later by Edmonton that bounced oddly off the glass and to an Oiler sitting in front of an open net. That was a bummer, but I managed to keep myself to just a loud sigh and a dramatic backwards sag. I can't say I wasn't being stared at, but I would have been staring too if I had seen me celebrating Joe Pa's goal in the middle of a near empty warehouse store.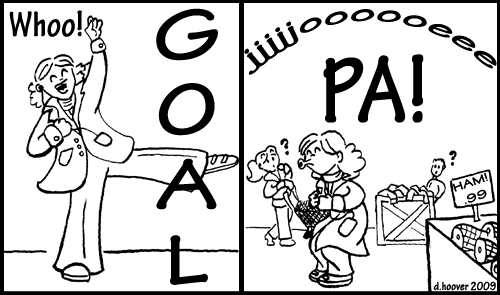 Of course, if I had seen me, that would have brought about some weird temporal flux, so it's best that I wasn't actually watching myself from afar.
I caught part of the second on the radio, including Jamie Baker being quite annoyed that there was no call after Milan Michalek got punched int he face. Rusanowsky was floored they didn't call it. I think we all had flashbacks to the semi final series against the Oilers. Randy and Drew were in full force by the time I got to a TV. I don't think I missed too much since the first was described as somewhat flat for the Sharks.
What I did see of the second and third was insanely chippy. Talk about two teams who don't get along! Edmonton has a bit of a rep in these parts for playing dirty. Deserved or not, they are certainly a psychical team who doesn't shy away from the rough stuff. The second period reads like a primer on how to get PIMs.
Marc Pouliot : Tripping - 2 min
Patrick Marleau : Tripping - 2 min
Marc-Edouard Vlasic : Tripping - 2 min
Alexei Semenov : Roughing - 2 min
Jason Strudwick : Roughing - 2 min
Claude Lemieux : Fighting (maj) - 5 min
Theo Peckham : Fighting (maj) - 5 min
Claude Lemieux : Misconduct (10 min) - 0 min
Steve Staios : Roughing - 2 min
Ethan Moreau : Cross checking - 2 min
Ryane Clowe : Roughing - 2 min
Shawn Horcoff : Hi-sticking - 2 min
Ethan Moreau : Roughing - 2 min
Ethan Moreau : Roughing - 2 min
Brad Staubitz : Roughing - 2 min
Brad Staubitz : Roughing - 2 min
Alexei Semenov : Fighting (maj) - 5 min
Zack Stortini : Fighting (maj) - 5 min
Yeah.
I won't get into the way the game was called in detail. It's enough to say it was weird, and leave it at that. (How is a punch to the face
not
a penalty?!)
The Oilers were relentless. One of the Sharks failings is that they tend to ease up after scoring. The first shift after a goal is always kind of sketchy for them. The Oilers were solid after allowing goals. Aggressive and aware. Hopefully the Sharks were paying attention to that.
Your three stars of the game were as follows:
(3) Cheechoo, (2) Grier, (1) Mr. Patty Marleau, who scored points 600 and 601 respectively last night, on two goals. That includes a lovely short handed goal assisted by Grier which had awesome written all over it.
If you missed the game, I highly suggest you watch the highlights on your preferred highlighting website. Good times.