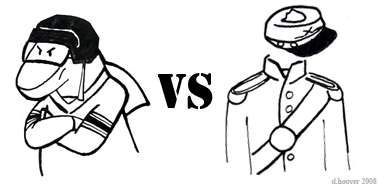 This afternoon at 4pm. Radio, TV, Interwebs
So Mason has mono, the Sharks have been looking less then spectacular in their past two games and Rick Nash is still really really good. How can you preview a game that sounds crazy before it begins?
I find myself as confused as ever, knowing only that starting the road trip off the "right" way, with a win, is in the best interest of the Sharks. Preferably one in regulation.
Go Sharks.
Post Game Recap:
I'm not really too sure what to think about this game. On the one hand, it was a loss, but on the other hand it's the first time the Sharks have dropped three in a row all season. It's not like they've done this a bunch. The Sharks were down all night but did manage to come back and tie in the end. They lost, but they managed to get a point out of it. It was a sloppy ending to a weird game that gave Columbus the win, but the Sharks nearly had it right after OT started. Nabby didn't look his best and every time they mentioned LaCosta, I kept picturing this:
Yes I know, his name is different.
So as I said, I'm not really sure what to make of this game. I do hope the rest of the road trip goes better. We'll see on Tuesday.