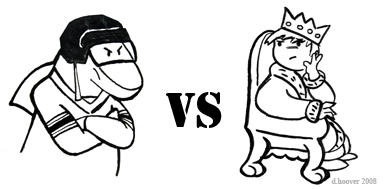 Tonight@7:30 Radio, TV, Tanks, Interwebs

Before we get to the game preview, can you believe there are 27 little cartoon toppers for these things running around? While I have the Sens and Thrashers under control, I need some help with the last one. The Habs. I have no idea what to do for the Habs. If you have ideas, (keep them clean), comment or email away.

Preview time!

The Kings are coming into the Tank riding high, having just vanquished the Ducks in a 4-3 affair last night. The Kings are in the midst of a road trip of doom, but they've been doing well and will likely be more threatening than tired tonight. Don't expect them to be push overs.

The Sharks will be flying high from their 4-2 win over the Oilers on Tuesday, but if they don't play with the emotion and intensity both Marleau and Lemieux talked about, they're in for a long evening.

Sometimes games against the Kings are slow and a pain to watch. Sometimes they're spirited and crazy. The Kings have improved quite a bit since that first tortuous game against them in the early part of the season. I'd expect this game to be faster and more furious.


---

And now for something completely different.

Reader Emily would like to see JR on Dancing with the Stars. So much so, she even made a video in support of her campaign.



Now I (Gray) don't watch DWTS, but ABC, if you put JR on you bet I'd tune in. He's clearly a natural.

For added fun, if ABC went nuts and decided to do an all NHL DWTS, who would you want to see shake their groove thang? Let us know.

My vote is for Brian Boucher. Much like JR, he's hilarious and I think he'd not only do well but he'd be great fun to watch.



Post Game Recap:

Vlasic love him some Celine Dion.
True story.
A few more awesome photoshops can be found towards the top of
this
thread.
Was this game played all 4 on 4 or what? I swear, almost every penalty was an offsetting one. At least it felt like that. Don't get me wrong here. I do enjoy some fast paced 4 on 4 hockey and we certainly got to see our fair share of that tonight, but the refs seemed a bit wary of calling certain things without also putting someone from the opposing team in the box and that lead to a lot of 4 on 4 time. That was an obvious hit the the head on marleau, and it was kind of over looked in the scrum that followed. Thankfully Patty is alright.
Kaspar got his second NHL goal just 34 seconds into the game, which is great.
It was fight night at the Tank, judging by the number of players who ended up with roughing penalties. The word on past Sharks teams may have been you can win by roughing them up. Not this year folks. This year, they all hit back. Seto, JoePa, Ehrhoff, Semenov, even JR looked like he was ready to leap over the bench and start smashing heads. This team has some fight in it.
Ersberg had some crazy good saves. I know he's the backup but it really is safe to say the King's goal tending is much improved.
The Kings were fast fast fast tonight and not afraid to hit. It was a playoff hockey feeling in the regular season. That always makes for a good game.
Rob Blake has been drawn to the sin bin in the past few games. Sin Bin Blake?
These games are only going to get crazier as the regular season winds down and teams on the edge fight desperately to make it into the playoffs. Buckle up and get ready for some crazy rides, folks.
Sharks win 4-2.
Your three stars: (3) Blake, (2) Patty, (1) Vlasic. He loves Celine! Enjoy the concert, Pickles!