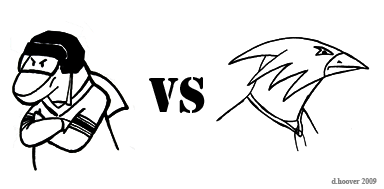 The elusive logo headed bird

Today at
1pm
Radio, Tv Tank, Interwebs
Think Kovalchuk will stay on his feet this time?
Is JR back today? We'll have to wait and see.
I'm probably going to miss some or all of this game due to RL interference. Traveling Mina is traveling, so the recap might be somewhat stunted. I'll dvr the game, no promises I'll actually watch it though. (I'm weird. I usually won't watch a dvr'd game, but I will watch the later rebroadcast of said game. What?)
So the Thrashers are coming in looking rather hot for them. They've gotten point in every game so far on their road trip and Kovalchuk is in scoring form. They're still last in the Southeast, but as we Sharks fans know, the bottom teams are sometimes the most dangerous. While the Thrashers aren't necessarily coming in gunning for a playoff spot, they're playing for pride. That's still a pretty big motivator.
Go Sharkies, go!
Post Game Recap:
I missed the first and part of the second, but since all the scoring happened in the third anyway, let's just cover that.
Didn't I warn you all that team down on their luck can be dangerous? Atlanta looked pretty good from what I saw. They were keeping pace with the Sharks and getting in the way of shots. They were aggressive, and while this game wasn't quite as chippy as the past two, they certainly made their presence known.
Shelley and Valabik had a fight. There was a lot of chatter going on prior to it. That seemed to energize both benches. What I saw of the game before that was a little listless. Not bad, just...listless.
Not a ton of penalties, but the ones that were called were costly. Three of the four goals scored this afternoon were on the PP.
Clowe scored 30 seconds into the third. He didn't even wait for me to get back by a tv!
Cheechoo's goal came with help from Mr. 700 assists, JR!
Good to see Shelley, Plihal, and JR back on the ice. Come back soon Lukowhich and Mitchell.
Nabby made some amazing saves, as did Lehtonen. It was like duelling goalies. Who can make the flashier save? dunDunDUNNNNNNN!!!!!!!!
Your stars of the afternoon: (3) Cheechoo (nice to see him scoring) (2) Clowe (also nice to see him scoring. He had some seriously good chances before that 3rd period goal finally went in) and (1) JR!!!!!!!! Whoo JR!