It's here. The game we have been waiting for. I approach this game with a mix of trepidation and excitement. Earlier this season, worry would have been far from my mind, now, the seeds are there, firmly planted by a series of lack luster performances. I know what I fear but I have no idea what to expect. There is only one thing I know for sure...
Tim Thomas is a Cylon.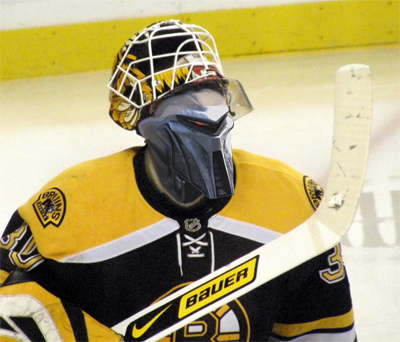 brought to you by Gray
There's no other way to explain a .932 save percentage. Not to mention his being second in GAA and all those acrobatics he does on the ice. There is no way a mere mortal could preform such feats. He has to be a Cylon.
There's only one man who knows for sure
And he's not telling.
---
Post Game Recap:
Cylon powers activate! Wait...wrong show...
Apparently Nabby is a Cylon sleeper agent. Someone send him to season 1 Baltar for testing. Perhaps the Tim Thomas we saw was a different Tim Thomas who isn't yet aware of his Cylon nature.
Lucic scored both goals for Boston in the first. How many other people were thinking he'd get a hat trick? Dude was looking crazy good!
There was waaaaaaaaaaaayyyyy too much hype surrounding Joe Thornton for this game. He was traded in 2005. I thought we'd all gotten over/past this. I see that I was wrong.
That said, I'm not unhappy that the NHL promoted the heck out of this match up due to both teams being on top. It's good to see the Sharks get some attention.
I don't mind Versus as much as some folks, (aside from the watering down of stuff during the first to introduce viewers to teams they might not be familiar with), but I did really miss Randy and Drew. I sat through OLN broadcasts which were rough. I can handle Versus.
So most of the first, if you weren't Boston, was kind of blah. Sharks weren't really clicking, Boston was dictating the play and the pace and while Nabby was making saves there were some scary scary moments. Boston was also very psychical. The Sharks didn't seem prepared for that.
The first wasn't all bad though; Blake got a PP goal (I think a Bruin actually had it go in off his body/stick/skate) and the Bruins took the 2-1 lead into the second.
The second was a mixed bag. It started off shaky, and I think the Sharks had a player in the box for the first 10 minutes of it (Not true, but it FELT like it). After spending an eternity killing penalties (including a 5 on 3) the Sharks started to come together and really fight back against Boston. More chances of both sides but nothing went in for the Sharks and the game remained 2-1 Bruins.
The third was a great period, and not just because the Sharks scored 4 goals. could you imagine if the whole game was played by at that level of intensity? Wow.
In contrast to the first, the Sharks really started to control the game in the third. Boston was still as dangerous and tricky as ever, but (from my P.O.V.) it seemed like the Sharks spent more time in the Bruins zone than theirs. It looked like perhaps the Sharks would put up a good fight but go down 2-1 until
the skies opened up a few minutes in and Patty scored. He was followed shortly by Michalek and Joe. There was a review of Joe's goal, because it went in off his skate, but there was no distinct kick (it was doubtful he even knew where the puck was until after it hit his foot) and the goal was allowed to stay. Right before the end of the third "No Goal Grier" broke his empty net curse and scored. He nearly had a goal earlier in the game, so I was happy he got this one.
Both goalies made some amazing saves. Highlight reel material.
Your three stars are: (3) Marleau, (2) Lucic, (1) Clowe (who had three secondary assists)
Since Mina is in the hospital with an angry pancreas, I'll be doing the word and stat of the game.
Word of the game:
Cylon
Perseverance
The Sharks looked improved but still somewhat listless in the first. They stuck with it though, and stuck to McLellan's overall plan to rally in the third. They could have easily given up, no one (but Sharks fans) would blame them. They were facing the best team in the league after all. But they stuck it out and played their game. For those looking for heart, it was on display tonight.
Stat of the game:
100%
The Sharks killed every penalty successfully. You had better believe that saved them from giving up a huge lead in the second.
Next game is tomorrow @ 4:30. I'll try to be back for it but I'll be at a job fair during the early afternoon, (frakking economy!), so no guarantees. Since we're down one, this may lead to abbreviated coverage of tomorrow's game. Apologies in advance.