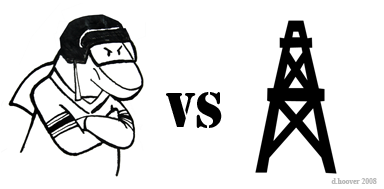 Tonight @ 7:30 Radio, TV, Tank, Interwebs
Was it fortuitous that the first team to pop up when I started to type the title was the Oilers?
Many teams have or ire, it's true. Many teams also preform well at the Tank, defying the odds year after year, no matter where they sit in the standings. Much like when the Sharks head to Phoenix, I cringe when the Oilers are mentioned. Much of these leads back to the semi finals of the 2005-2006 season, when the Oilers muscled their way into the conference finals after a promising start by the Sharks. Some of it, though, is based on fact. The fact that Roloson turns into some sort of goalie god when he's in the Tank. Nothing gets by him, no one can beat him. It borders on ridiculous. Taking this fact and combining it with the Sharks recent play on the road makes me a tad wary. If there was ever a night to start a new win streak for the Sharks, this is it.
Go Sharks!
Post Game Recap:
Full recap to come tomorrow, along with a cartoon. Congrats to Patty on points number 600 and 601. Whooooooo! Great win!