A few notes from last night:
The Wings knocked out the Blue Jackets in 4. Who saw this many sweeps coming in round 1? Not I, said the fly. The Flyers, down 3 games to 1, surprised many (myself included) by coming back to make it a 3-2 series. Can't ever count a team out in the playoffs.
The Sharks game was disappointing and perhaps a tad embarrassing, but I lost more sleep over the fan/media reaction to it than I did the game itself. Every year it's the same thing. Everyone jumps on the love the Sharks bandwagon, expects them to do way more than most teams in the playoffs, gets pissy when they don't and jumps off the "go Sharks" wagon and onto the "crap all over the Sharks because they suck" wagon. I'm really done with that. I've been an A's fan for a very long time. They haven't always been good, and they have been treated similairly in the media and by fans for post season "failures." Get over it. People put way more of their own personal stakes into a team than they should sometimes, which leads to immense disappointment and a need to rationalize it by bashing anyone and everyone you can think of who might be to blame. Sure, we as fan can be upset, disappointed, even mad, but I can do all that perfectly well by myself. I don't need outside help. This team will be ready when they are ready. I'll be watching and waiting until then.
It's onto game 5, which, fingers crossed, should feature some new art.
I wasn't joking when I postulated that Bobby Ryan has a clause in his contract that forces people to constantly remind you that "he was drafted second after Sidney Crosby."
Other random notes: Daniel, I've been working on your comic. It may or may not be up before season's end, depending how game 5 goes, but it will be posted!
Only one game on the docket today. I don't know how I'm going to handle that either!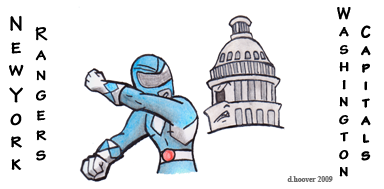 Today @ 4pm
VERSUS, TSN, RDS, all HD
Rangers lead series 3-1