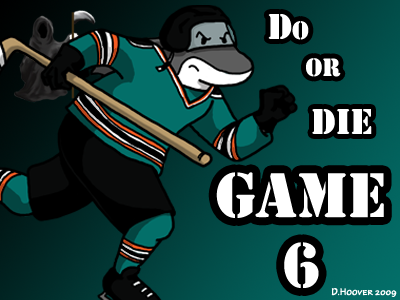 Tonight @ 7:30pm
CSNBA-HD, VERSUS HD (joined in progress), CBC HD, RDS HD
Don't miss this game. Catch the great Jamie and Dan on the radio if you can't watch it on TV.
All of the San Jose will be watching.

This is it. All or nothing, do or die, jump or jerk off, my way or the highway, put up or shut up. It's all on the ice tonight.

Go Sharks!

AND...........

We're out!

Welll have more later, but I'd like to thank the Sharks and all the fans (well, all you none whiny ones anyway!), and Randy, Drew, Jamie and Dan, for making this a most excellent season. I will miss watching my boys in teal on tv and will eagerly be awaiting their return for pre season hockey in September.

Stick with us readers. We'll be posting art and covering whatever madness happens in the off season, as well as keeping tabs on the rest of the playoffs. You didn't think we'd stop just because the Sharks are out, did you?

Thanks for a helluva season, boys!
Go Sharks!