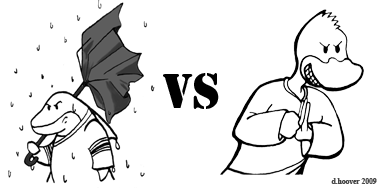 Tonight at 5pm. Radio, TV, Pond

Traffic on Katella will suck tonight, fo'sho.
Speaking of sucking, last night's game was bad. While it wasn't the worst performance this season has seen, it wasn't pretty. And yet, after a good night's sleep, I am ready to put it into perspective. It was only the Sharks 4th home loss in regulation this season. It was a stinker of a game, but the Sharks have a chance to come out and right the many wrongs of last night tonight.
Just in case last night's loss wasn't enough to spurn the Sharks into action, I'm willing to make them an offer they shouldn't refuse.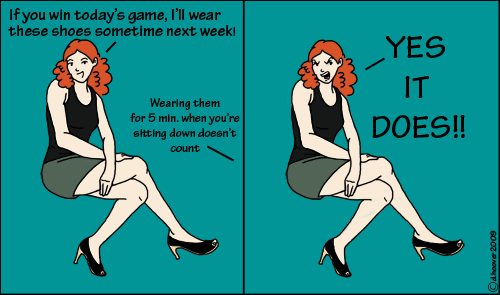 That is some serious foot and shin pain Sharks. I'm just saying.
Go Sharks.
Post Game Recap:
I get back from dinner and the purchasing of foods, look over the list of penalties assessed at the end of the game tonight and loudly start shouting at anyone who will listen, "How does Corey Perry NOT have a misconduct?!"
Because seriously HOW DOES HE NOT HAVE ONE?! He walked on Boosh. Like he was a rug. He didn't accidentally run into to him, that was all on purpose. That is BS. Also, he was smacking Pickles in the head with his stick. He wasn't trying to get the puck, he aimed for Vlasic's head and whacked at it hard enough to flex his stick. WTF. Why does he only have 2 minutes?
Hell yes, Boosh is going to leave his designated goalie area to smack Perry after that nonsense. Don't give him two minutes, give that man a medal. Perry didn't even stand and fight, he ran away. What BS that whole mess was. It was all I could think about for a large portion of dinner.
The last 30 seconds probably saw about 100 different penalties, on both sides, go uncalled. The refs let is get way out of control.
Ok, enough of that. The Sharks listened and I will wear those shoes this week.
Anyway, a summary of this game now that the brawl at the end and too much food too fast has blurred it. Sharks played better, but it really took them to the second to do so. It wasn't a great game, but it was a better game.
JR got a goal. Whoo!
There was an early SJ goal but it was disallowed on an offside call. Not that anyone heard the whistle. but hey, it's when you intend to blow the whistle, not when you actually do it, as Drew says.
All I can think about it the laundry list of penalties at the end and what's missing from it so I'll leave the game wrap there. Sharks are back in the Tank Tuesday for a game against the Avs. Be there!