Today @ 1pm. Radio and TV. Be there.

This is it.
Game 82.
Time for the regular season to end and endless speculation to begin. Who will be our first round opponent? How far can McLellan lead his men? Will the hockey gods smile upon us with fortune and favor or smite us with the pain of a thousand dashed hopes once again?
One season ends tonight; another begins next week.
Let's do this.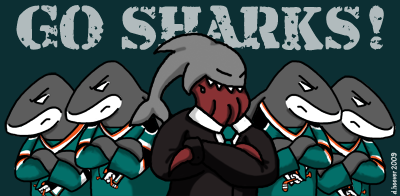 Post Game Recap:
I will do a recap after my date with Yogurtland. A girl's gotta have priorities.
Needless to say, we did pick up this little bobble today. Not the most important trinket, but one worth grabbing along the way. Let's hope the Sharks get a friend to sit next to it come.
Alright, yogurt acquired, deliciousness had, recapage to start in 3...2...1...
A 3-4 loss to the Kings isn't the best way to end the season but I was left rather pleased by game's end. This game was better than the game against Phoenix, which was better than the game against Colorado. Improvement. Whoo.
Some scariness in a lack of 5 on 5 scoring, but the PP looked good and the PK wasn't too terrible, so, I can't complain too much there.
Nabby looked not himself. Not sure what's going on there. It was the last of a relatively meaningless game for these guys. Maybe they're just phoning it in in an effort to stay uninjured for next week.
But you know what? I am not worried. Yes, the Sharks are backing into the playoffs and yes they just lost to two non playoff teams but whatever. Boston and the Wings didn't exactly fare well either, and there's no guarantee that how a team is playing at the end of the season will have anything to do with how they play in the playoffs.
Team come in hot, and lose in round 1. They come in cold and lose in round 1. They come in luke warm and lose. They also come in an win in all those scenarios. The Post season is a different beast. What you did over the past 82 games means nothing once the playoffs start. It doesn't matter where you finish, once you're in, all bets are off. I'm saving my worry, my panic, my nail biting for next week when it really matters and when I can put it to good use. For now, I'm just pleased with the overall results of the Sharks season and hopefully that the good times will continue into June.

*Update*
This
just went up at Yahoo. I suggest all Sharks fans read it. Perspective. It has it.