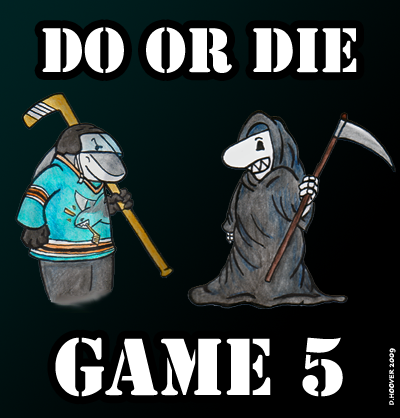 Tonight @ 7pm
CSN-HD, VERSUS-HD, KFOX with the great Jamie and Dan
Every TV in San Jose and more spread out over a teal web covering the entire Bay Area will be watching.
Don't miss this
We do get disappointed in the Sharks sometimes. Sometimes Mina and critique them, sometimes we slap our foreheads at games and wonder why they play like they've never seen a puck before. But what
I
won't do is throw these guys under the bus. Sure game 4 sucked, but this isn't game 4 anymore. It's game 5. That's a whole new ballgame. Whatever thoughts you had after that game, toss them out. Time to put that junk in the trash. Nothing's impossible. A win tonight would shock the world. Do it! Go Sharks!
Post Game Update:
Helluva game tonight. It's currently 2:30 am, I have no voice, and I just got back from an awesome night at TCY's. I have apparently been put in charge of chronicling it, which I must confess is quite the challenge. I will do my best, but nothing will capture the evening in a way that does it proper justice. Due to the lateness of the evening, the recap will come later today.
Go Sharks!