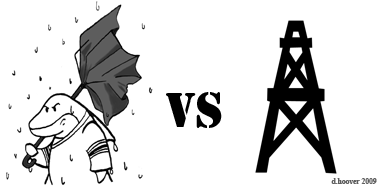 Tonight @ 6:30pm. Radio, TV, Tied House with Sharkie and some suds.

Last night while slowly weaving our way around the rink at Sharks Ice (yeah, we have ink rinks in California. Weird, I know) Lurker Shark of FTF fame pointed out to me that if the Sharks win tonight, it will pretty much signal the end of the Oilers post season chances. After spending several minutes making excited faces and verbally exploding with ideas of payback and sweet sports justice, I came to the following conclusion: "You realize this means the Sharks are going to lose, right?"
Pessimism, thy name is Gray.
It just feels like the Sharks are the team to give you chances or records, not take them away. We're givers. Perhaps a tad too generous, but what can we say, we're nice guys.
If the Sharks do defy my pessimistic odds and win tonight, a feat they are entirely capable of, they will have 51 wins. 51. That would tie the franchise best finish of 51 wins back on 06-07.
Here's a to win. Go Sharks!
---
Only a few
Couch Tarts
items left! Get'um before they're gone!
Post Game Recap:
First off, I am amazed the Shark won. not because they aren't capable, nay, but because the Sharks don't get to do things like win in both Edmonton and Calgary. Or win 51 games, (well, ok, they did get to do that before but let me have my moment), or be able to basically eliminate a team two weeks before the playoffs start. In past seasons things have never quite seemed to roll that way for us. Huzzah for change.
Also, a quick huzzah and thank you to the Blues who beat Detroit today, allowing the Sharks to gain 6 points on the Wings with tonight's win. w00t!
So we have to ask. What does Cvik have against Joe Pa? Cvik, if you recall, is the guy who made the phantom headbutt call on Joe Pa a few games back. Tonight he calls Joe Pa for diving after he's hit in the face by a high stick. Now look, I know he's a tough hockey player and all but I think anyone who suddenly loses forward momentum do to a stick up the nose is going to succumb to gravity shortly there after.It seems to be one of those "givens" in life. Stick to face, in pain you writhe, to the ground you fall. Kotalik should have gotten 2 for tripping (the initial call) and 2 for the high stick. It didn't work out that way. I guess this dude really didn't want Joe Pa to get the Lady Byng.
**An astute reader points out that Cvik is a linesman and Ref Lee made the call against Joe Pa. That said, it's a good rant so yo can replace "cvik" with "lee" in your minds. Thanks!
Joe Pa called shenanigans, which least to a few non calls later on. He was high sticked again and it was ignored. Seriously guys, it's Joe Pa! If he's calling you out it's not because he feels like whining. (that is the blogger's job, obviously)
Roloson also got away with several things. He shoved his net off it's moorings and messed around with JR, which drew an interference call...on JR. Roloson feel over on his own, but no, seriously, JR, we know you touched him. JR was not a happy camper.
That said, Roloson did have a ridiculous call go against him for delay of game early on. It was a bad call and Roloson looked about ready to pounce and attack the refs. Seriously, he was shooting daggers with his eyes. It was creepy.
Did you know he's 39? I had no idea.
Nabby did well tonight, though none of his saves needed to be stellar. He just had to be the normal solid goalie he is and he did that. Thank you Nabby.
The post was spectacular tonight and made a total 5 or 6 saves. Several against each team. Uh, go post? Someone assign that lifeless red pipe a star.
The Sharks came out with some pretty solid energy in the first and held that until the bogus diving call on Joe pa in the second. Cheechoo got his groove back and scored 52 seconds in to put the Sharks up. Yay Cheech! Dan Boyle had the other goal, in some weird cosmic reversal of goals scored in Calgary. No one seemed to mind.
The Oilers one and only goal came after the Joe Pa call. Now I'm not saying it would have been 2-0 if Joe Pa hadn't been sent to the box, but it did annoy me to see the Oilers score after that.
JR nearly put a goal in behind Roloson several times, but nothing ever quite made it. Next time, sir, next time.
Your three stars: (3) Dan Boyle (yay Dan Boyle!), (2) Gagner (who got the Oiler's goal), and (1) Nabby.
Sharks now have 113 points and as mentioned earlier, tied a franchise record for wins with 51.
Mina informs me that the Sharks magic number is 5.
Hang on to your hats everybody. It's going to be a crazy final few games!