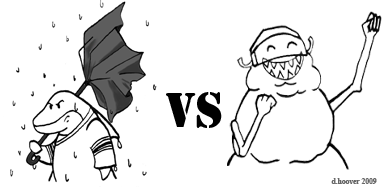 Tonight @ 7:30. Radio, Versus, Tank


The Avs blow into town on a day that's expected to be stormy. I have never been bothered by walking to and from games in the rain, unless it's that crazy sideways drench you rain that you can't stave off with an umbrella and sheer will. Wet jeans aren't fun.

It may be the Avs we face tonight, but the Sharks still need to come out hard. We have run into a few iffy moments with this team, (remember that goal go around early on in the season?), and I'm not one who buys the whole "easy" team thing. Well, maybe a little bit, but I'm convinced all 30 teams are dangerous at all times. Mostly because they are.

I don't care much about the Presidents' Trophy. That's a bonus end to a long regular season. The Sharks needs to go into the post season hot, or at least luke warm, if they want to advance. That's may concern right now and I'm hoping it's theirs as well.

Whoo, Go Sharks!

Post Game Recap:
That.took.way.too.long.
1st: Shots on goal say it all. 2 Shots? 2?! As Mina said at the game "the first was worse than I remember it being." No kidding.
2nd: I have no idea what happened in this period. It was a 20 minute blur of not much happening.
3rd: You've been
BUDAJ'D
!!!!!!!!!!!!!!*
*art for that tomorrow!
OT period: Did anyone tell the Sharks we had two power plays? Two chances with MORE MEN ON THE ICE?! Because it was hard to tell!
Shoot out: WHOO! SAVE! POO! SAVE. POO!! SAVE!!!!!!!!!!! WIN!
The gentleman next to us commented on the momentum shifting to the Avs after the two PPs in OT failed to do much of anything. My response was "What momentum?!" Most of the game was a strangling balance of no real momentum for either side. really it was 60minutes of nothing happening. Sure, there were a few good saves on both ends, some nice hits, and few penalties for both sides, and a lot of shots going 12 feet above the goalies and into the netting.
End result is two points which I would like to say is all that matters, but it would be nice to roll into the playoffs with a bit of a spark, no?
Your Mina Magic Number update for the evening:
For the West: 1
For the Presidents' Trophy: 2
This has been your
Mina Magic Number update for the evening.