I'm going to start off on a sad note. We're also baseball fans and even though we both share a passionate dislike for the Angles,
this is just terrible news
. Much like hockey, baseball is a family. Any loss is a loss felt by all. Our condolences go out to Nick Adenhart and his family, and to the Angles organization.
---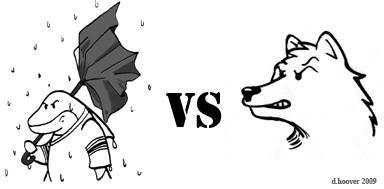 Tonight @ 7:30. Radio, TV, Tank. Be there.
So here we are, 40 games in to what has been a fantastic season at the Tank. We've had our share of ups and downs in this building, but nothing like in past years. The Tank has been a nearly impenetrable fortress this year, filled to the brim most nights was 17,496 fans, most of whom are cheering their hearts out for the team in teal. 40 different "Hey [insert opposing team here], YOU SUCK!] cries from 209, echoed by a good portion of the rest of the upper and lower bowls. 40 games of hearing Mina go off about Danny Miller. 40 games of up and down, back and forth hockey that mostly lead to triumph, but occasionally lead to heartbreak.
40 games.
Tonight we hit 41.
It's been a hell of a ride here this season boys. We can't wait to see where you take us next.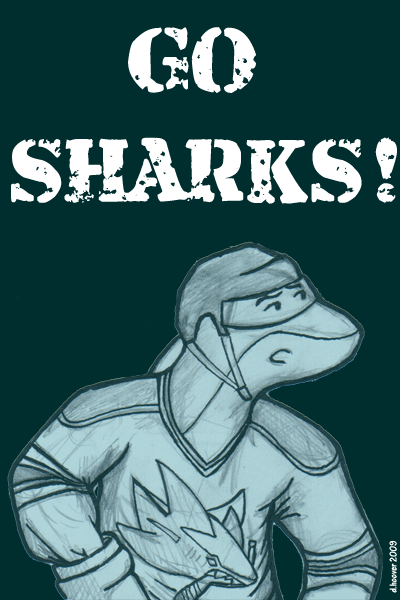 inspired by this picture of Captain Patrick Marleau. Original image credit Don Smith/NHLI/Getty Images.
If Patty were a cartoon shark, I think he'd look a little like this.
Post Game Recap:
So it's not the outcome you want. A home team 4-1 loss. But, whatever. Forget it. I mean it! I made it a mission to enjoy this season and this game, and overall, I succeeded. Sure it had it's ups and downs, but look where we are; 117 points, winners of the west and owners of a GREAT home record in the regular season. Hell, a great season period. I'm not going to be a Debbie downer here. That is such a waste of energy. Energy you should be saving up for the playoffs.
But enough speeches, let's recap this mofo.
As I said, I endeavored to enjoy this game, despite it's faults. And there were many. But why focus on the play? Or the refs? Why not focus on the more disappointing and sad thing, the fans in section 205.
Ok, so it wasn't JUST 205, but we were in 205 and I will comment on it as it was the bulk of my experience.
We almost saw a fight between the young woman in front of us and these very angry, loud and drunk fans behind us. Mina nearly started one herself. Neither of us have ever understood angry sports fans. Perpetual unhappiness seems like such a chore.
Anyway, Mina was squirming thanks to 3 solid periods of "YOU SUCK SHARKS! WTF ARE YOU DOING!YOU SUCK NABBY! YOU ALL SUCK! WTF SUCK SUCK SUCK!" There was also something about big girl panties and the ballet.
The ballet?
Degas, Ballet Dancers on Stage. You have an artist blogging, you're going to get a little bit of art history. No 3 hour lectures though, no worries.

I don't know either.
When Montoya went down and his helmet popped off, they all booed the ref for stopping the play. Look, even if he did embellish the fall a bit and knocked his own helmet off, I do not want to see play continue. Period. End of story. That's such a dangerous situation.
There was also a good deal of "YOU SUCK MCLELLAN!" and "RON WILSON WOULD TELL YOU TO SHOOT! WHAT WOULD RONNIE SAY! BRING BACK RONNIE!"
You guys DO realize we have 117 points, right? No? Oh, ok. That explains quite a bit!
At that point, how can one take such heckling seriously? It bothered Mina but I tuned out what she didn't point out.
The kid next to us was awesome. Just awesome. The Sharks might not have won the game but that kid won the night. He was great and I would sit next to him again without hesitation. He's been going to games for as long as he can remember and yet, tonight was the first night he heard the BS chant. He was amazed. It was great.
So aside from the fact that our section, or parts of it, were certifiable, I enjoyed myself.
Gray, how could you enjoy a game like that?!
It was the LAST HOME GAME OF THE SEASON. I'm enjoying it! It's the end of this season at home, then end of whatever this journey has been so far and the start of a new one. If you aren't celebrating that, you're too caught up in the single game aspect. (You also might care more at the Presidents' Trophy than I do)
JR's speech was amazing. Seeing it in person was worth that whole game. JR, we booed your uncertainty because we want you to stay. You're awesome and San Jose loves you. I think you know that.
Seto, man, way to throw down. Did Moen give you tips in the box?
The Shark shark teeth, complete with gums, biting the power play sign? Amazing. Please comeback for the playoffs!
We'll be here for the
last game of the regular season
(ZOMG!) on Saturday. Go Sharks!