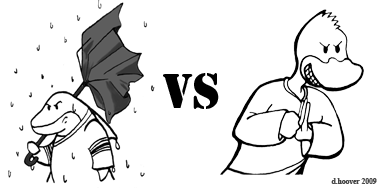 Tonight @ 7pm. Radio, TV, Tank.


Ah, our ever present and ever annoying foes from the south have rolled in for a home and home this weekend. Those jitters I had about facing the Ducks in the first game of the season are back, but now they are tempered by nearly a season's worth of ups and downs. I don't know if that's a good thing or a bad one.
Personally I'd rather not see the Sharks drop either game. While a BOC match up in round 1 would be good for hockey in the great state of California, I'm not really keen on losing our way into that match up. To be honest I'm not sure there is an easy first round match up this season. Everyone is dangerous. I'm not sure I'd want to roll into those first post season games knowing we dropped the home and home.
Fate will speak tonight in a loud and raucous Tank. It will be a playoff atmosphere. Don't expect anything less.
Do expect to boo Pronger. (and maybe Corey Perry)
Post Game In Game:
1st:
One of our friends, Shiromori, over at FTF said it best when he said, "Sharks played like those Musical Chairs on Ice participants in the first period."
My summary was, "Not much happened; then the Ducks scored."
Both are fairly accurate.
Joe got the one goal of the period for the Sharks. Go Joe!
2nd:
Glorious moment when Milan gets a PP goal. Whoo
Some moments of good pressure, some moments of ZOMGGETOUTOFYOURZONE! Too many of the latter, too few of the former.
Turnover city. Ducks score two to make it 4-2 Ducks going into the third. I seriously debate going to bed and dreaming up a Sharks win.
3rd:
Well, the third line has looked good. That's a plus.
Frakkity frak frak, ducks score again 5-2. Man, maybe I should have gone to bed, eh?
I think it's very safe to say that this was not the best game the Sharks have played this season. If it was, it would have been a very depressing season.
Milan was awesome. The rest of the game? eh, not so much. Nothing working, nothing connecting, just one of those bad nights. Not for want of chances either. The Sharks swarmed and had a flurry of shots several times, but nothing doing.
Hiller was a beast.
Randy and Drew we on tonight, even if the Sharks were off.
What a bummer. Sharks lose 5-2. The game moved mercifully fast for such a poor performance. See you in Anaheim.