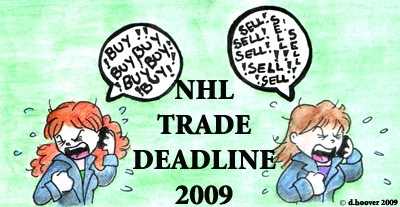 We'll be providing a recap of the days events, or lack thereof, and how they could possibly effect the Sharks. Enjoy deadline day, folks. One of the biggest procrastination days of the hockey year.
Recap:
I think Mina ditched me to go on a date or something. What's with putting your social life before hockey? Geez!
Basically today was a snoozer, which wasn't a huge surprise. I went and worked out for an hour and didn't miss much of anything. The biggest move, according to TSN's very bored staff (well, I'm guessing they were bored since it was a slow day), was Calgary acquiring Jokinen. That vaulted them to the heights of Detroit and San Jose, according to TSN. Well, not quite, but it brought them closer. There was then a debate on whether or not SJ should be in the same category as Detroit, and if Calgary could be in the same one as SJ. Everyone agreed to disagree and they moved on.
Reaction:
I know a lot of Sharks fans freaked out over this one, because it looks like Calgary just became extremely annoying. Facing them wasn't going to be easy in the post season and this certainly doesn't make it any easier. It remains to be seen how the acquisition goes, but if it goes as well as some people think it will, Calgary could be a killer in the post season.
---
Bill Guerin to the Pens for a conditional pick.
Reaction:
I like the Pens, so I hope this works out for them better than it did for the Sharks. Rivet was amazing and I still lement his loss. Bill Guerin on the other hand, well, sometimes I forget he played here.
---
Bouwmeester stays put.
Reaction:
We couldn't have afforded him anyway, but think of how awesome it would have been if we COULD. *stares of dreamily into space for a few minutes* ...
Oh, sorry. Smart move by Florida. I didn't really think they'd move him.
---
Kyle McLaren to Flyers for a 6th round pick.
Reaction:
Goodbye Kyle. I'll miss you! ;_;
---
Moen and Huskins to the Sharks for Nick Bonio and Timo Pielmeir and a conditional draft pick.
Reaction:
You weren't expecting DW to make a super star acquition were you? Have you looked at our cap space lately?
My first reaction to this trade was "we gave who for who?" I don't pay attention to prospects like I should, and I wasn't aware the Moen was the guy who had a healthy dislike for Ott. I don't know much about Huskins at all, though my tade day hunting had a lot of people saying he was injured. Hmm.
They're both UFA's and season's end. Moen should add some grit and Huskins will add...well, whatever it is he does. (sorry Sleek) I was really surprised they were traded within their division. That's sort of weird, but on the plus side, they don't have to sell their houses in Orange County. It's only a short flight away.
I'm fine with that trade, but, as always, I reserve final judgement until I seem them skating with the team.
---
Pahlsson to the Blackhawks

Reaction:
Sleek? You alive over there, bud?
---
Those are my thoughts for now. Hopefully Mina will add hers and give you a more in depth analysis of the day's events a little later tonight.
On a related note, if any suspected Cylons moved today, please let me know. This could impact redistribution of them in the summer.