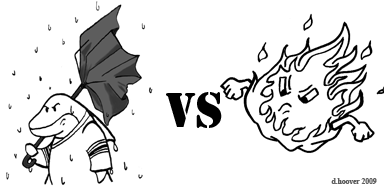 Tonight @6:30pm Radio and TV

Is a minor quake on game day significant? Does it signal a groundswell in effort or the great roster shake up that has been the injury list this season? Probably not. Somehow I doubt the local fault lines pay much attention to hockey. They have their own pressures to deal with.
But the Sharks are in for a tough battle tonight. First off, everyone on the team is injured, (or it feels like that anyway) and the Flames play rough. Secondly, the Flames aren't exactly push overs. Our contests with them thus far have been lopsided, to say the least. The Worsharks on the team may not be as familiar with the Flames as some of our vets. They're about to go through one hell of a trial by fire.
Calgary is losing ground in the Northwest and will be looking to stay ahead of the Canucks, who are threatening to overtake the lead.
Let's go over that again. Injured Sharks+rookies+desperate Flames+not the best record against the Flames this year=potential for insanity.
---
I'd like to remind you all that Couch Tarts stuff is
still available
! Get it while it's hot!
Post Game Recap:
This game was a good one folks, hope you all tuned in!
Word was Calgary was saying all you have to do to beat the Sharks is beat them up. That worked in years past my northern friends, but not this year. Not with this team. Keep those elbows inside and hang on. It's going to be a bumpy, tight paced ride.
Hard hitting, fast paced, everything you'd expect from a Sharks v Flames game. And the Sharks won! Bonus!
Taking advantage of a lovely 5 on 3, Boyle got a goal, his first in 22 games, on a nice play from Thornton. Hello awesome! First goal of the night, a winner is you!
Or, not.
Calgary scored to tie the game. Ok, a tie game is you.
Cheechoo's goal in the second (and man did he need a goal) a winner is you! Wait...yes, yes in fact, a game winner is you! Congratulations!
Nabby made some killer saves. he stopped one shot from sliding in at the last possible second. It was crazy.
Not to be outdone, Kipru made a ridiculous save on Joe Pa in the third. Highway robbery, thy name is Kiprusoff
Lukowich didn't get a goal,though he got an assist. But because it looked like his goal at first, and we like him, he gets a bonus goal.
As Mina pointed out to me tonight, two years ago the Sharks won 51 games. Tonight, they won their 50th of the season. Makes our complaining seems a little silly (don't worry, we don't plan on stopping any time soon)
The Sharks also now have 111 points. I don't even know how to fathom that, but, there it is.
The 111 points dazed me so much that I forgot the three stars!
(3) Glenncross (waaahh?) (2) Iginla (1) Thornton